The British heatwave has brought the hottest day of the year so far with temperatures soaring to 35C.
The mercury hit the 2018 high at Heathrow on Thursday, the Met Office said – and it is set to get even hotter.
Forecasters say temperatures could soar to as high as 37C on Friday, triggering a thunderstorm warning into the afternoon.
– The heatwave is said to be causing "winter conditions" in parts of the NHS
– Passengers on Eurotunnel endured five-hour delays with no air conditioning
– The Royal College of Nursing said high temperatures were leaving nurses dizzy and exhausted
– 56 fires have raged on grass verges next to England's motorways
– A high pollution alert was issued for London
– Fire brigades are calling for a ban on BBQs in parks
The most recent heatwave prior to this was in July 2015 when temperatures peaked at 36.7C at Heathrow on July 1, a temperature that is currently the July all-time maximum record.
There is a chance the high temperatures could even beat the all-time UK record of 38.5C, with the hot weather set to continue into August.
With the potentially record-breaking high temperatures in the coming days, the Government is being warned it must do more to protect vulnerable people in extreme heat.
Deputy chief executive of NHS Providers, Saffron Cordery, said: "These days there is no real let-up in the pressure on NHS services in summer in the way we used to see.
"Some trusts are reporting record numbers of people coming into A&E, with increased emergency admissions, often for respiratory problems and conditions made worse by dehydration.
"We have heard concerns about large numbers of people from care homes requiring treatment."
A Met Office spokesman said while it will be a bit cooler and potentially unsettled over the weekend, the hot weather will return next week.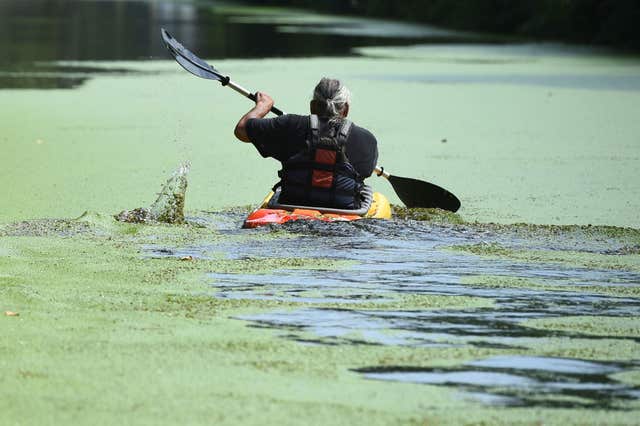 Children, the elderly and people with lung or heart problems have been advised to reduce strenuous exercise and physical exertion.
Advice and warnings have been issued to those on the move in the heat.
Drivers have been urged not to throw rubbish from vehicles amid a surge in grass fires near busy roads.
There were 56 fires on grass verges next to England's motorways and major A-roads in the 10 days to Wednesday, Highways England reported.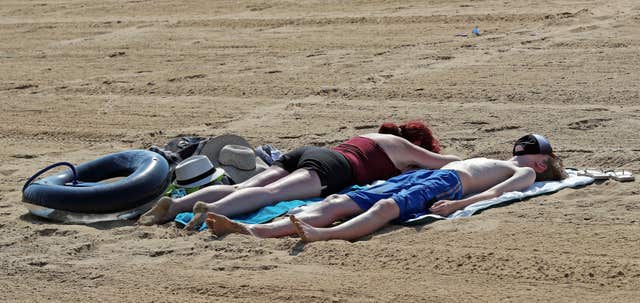 The English end of the Folkestone-Calais link was worst affected, with people forced to queue for up to 90 minutes just to check in and a further three-and-a-half hours for the next available slot, according to the operator.
Footage posted on social media showed long queues of cars, caravans and lorries.
Meanwhile, London Fire Brigade is calling for a temporary ban on barbecues in public parks after a record-breaking spate of grass fires in the tinder dry capital.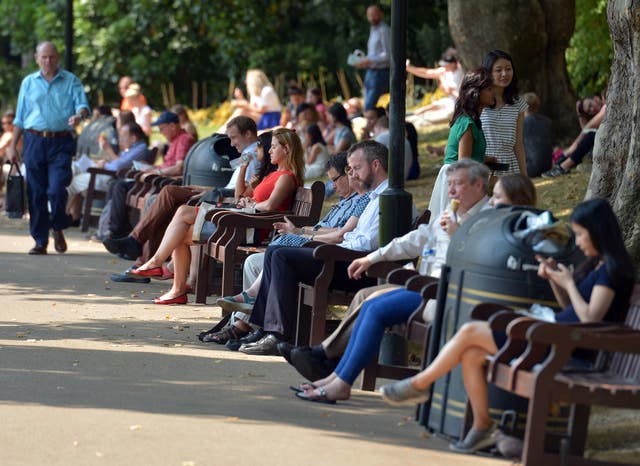 "In these arid conditions, barbecuing on dry grass is not just thoughtless, it's reckless."
Leicestershire County Council said that since the beginning of July, the council's gritters have spread around 150 tonnes of granite over roads at risk of melting.
It is the first time for a number of years the highway teams have had to carry out dusting using modified gritters.
Shadow health secretary Jon Ashworth said hospitals are facing year-round pressures, saying "the traditional lull in NHS activity during the quieter summer months is a thing of the past".
Blood supplies have dropped, health officials have said, saying some people have been too dehydrated to donate while others have chosen to stay in the sun.
One nurse was admitted to A&E with dehydration after working three 12-hours shifts in a row during the heatwave, the Royal College of Nursing (RCN) said.
The Royal Parks, which manages the right royal parks in London, said there has been a 150% increase in swimmers at The Serpentine Lido during June and July compared to the same period last year.
The extreme temperatures have also led to a temporary relaxing of the strict dress code for cricket spectators in the Pavilion at Lord's.
Male members of Marylebone Cricket Club (MCC) are normally expected to wear jackets when arriving at the ground and while in the Pavilion area.
But those attending Middlesex's Vitality Blast match against Hampshire on Thursday were told: "Due to the abnormally warm temperatures, MCC has decided to dispense with requirement for gentlemen to wear jackets in the Pavilion and arrive wearing one. "
The RAC said it is expecting breakdowns across the UK to be up around 15-20% on what they would normally expect for late July by the end of Thursday, adding that breakdowns are already up 25% in London.
MPs have warned heat-related deaths will treble by mid-century unless the Government takes action to tackle the dangers of soaring summer temperatures.
Scientists have warned that climate change is making such heat extremes more likely, and the report comes as northern Europe swelters in a prolonged heatwave.
Wildfires in Greece have claimed the lives of at least 80 people, including Irishman Brian O'Callaghan-Westropp, who was there on honeymoon.
He and his new wife Zoe Holohan, who is in hospital after suffering burns to her head and hands, had flown to Greece on Saturday following their wedding in Co Meath two days earlier.