Charitable organisations have warned that the political instability in Northern Ireland is "unsustainable".
The leaders of groups like NI Chest Heart and Stroke, Ulster Wildlife and the Council for Homelessness NI united behind a common plea for Stormont's politicians to get back to work.
A voluntary sector survey found that 65% of those who responded believed political uncertainty will worsen over the year ahead and almost two-thirds expected the economy to deteriorate.
Almost three-quarters (72%) advocated a shift in the political decision-making process and only 24% believed in maintaining the status quo.
About 27% of third sector leaders felt responsibility for making decisions about Northern Ireland should fall to the Northern Ireland Secretary, while 25% said a joint British-Irish intergovernmental conference, and 20% said a citizens' assembly.
Nora Smith, chief executive of representative organisation Chief Officers 3rd Sector (CO3), said: "The political situation in Northern Ireland remains a key concern for third sector organisations and one which they don't expect to improve.
"Our latest report demonstrates that the lack of a government is impacting on the sector, however the resilience of organisations is also apparent.
"What is clear is that the third sector needs government decisions to be made and the majority feel that the current situation where decisions aren't being made is unsustainable."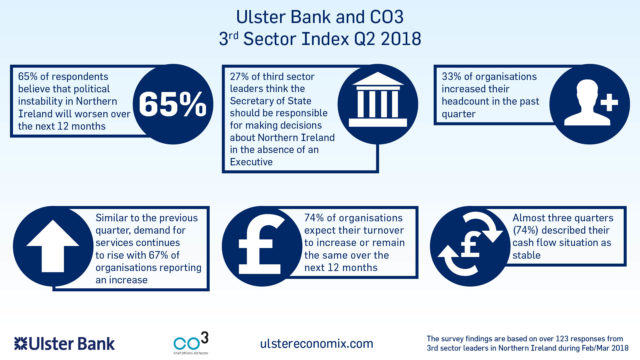 Richard Ramsey, chief economist for Northern Ireland at Ulster Bank, said the economy had been resilient, with private sector activity increasing and labour market statistics posting positive records.
"The latest Ulster Bank and CO3 Third Sector Index suggests that this is being reflected in the third sector where, despite issues being created by a lack of decision-making including in relation to funding, third sector organisations report that they are seeing growing demand and are increasing their headcount.
"Whether this is sustainable in a situation where political stalemate continues, and the economy as a whole feels the increasing squeeze of rising inflation and stagnant wages, remains to be seen."