A hunt is under way to trace a driver who fled the scene of a crash in which a 17-year-old boy was killed and two other teenagers were injured.
West Midlands Police said two 14-year-old girls travelling in a Volkswagen Golf were injured when the car ploughed into parked vehicles in Walsall at 12.10am on Thursday.
The 17-year-old who died, who was from Malvern in Worcestershire, is also believed to have been a passenger in the car.
He was found collapsed nearby with a serious head injury but pronounced dead in hospital, while the suspected driver of the Golf is believed to have left the scene.
One of the female passengers suffered a broken arm, police said.
At the scene, in a residential area with a 30mph speed limit, shocked residents described hearing the screeching of tyres, then a loud bang, likened to "a bomb" going off.
Debris, broken glass, skid marks and the buckled body panels of several vehicles show where the Golf crashed into at least three other cars in Weston Street, before coming to rest in the middle of the road.
Video footage taken by stunned residents showed the shattered remains of the Volkswagen – left wrecked in the middle of the road – as paramedics worked desperately nearby to save the fatally injured teenager.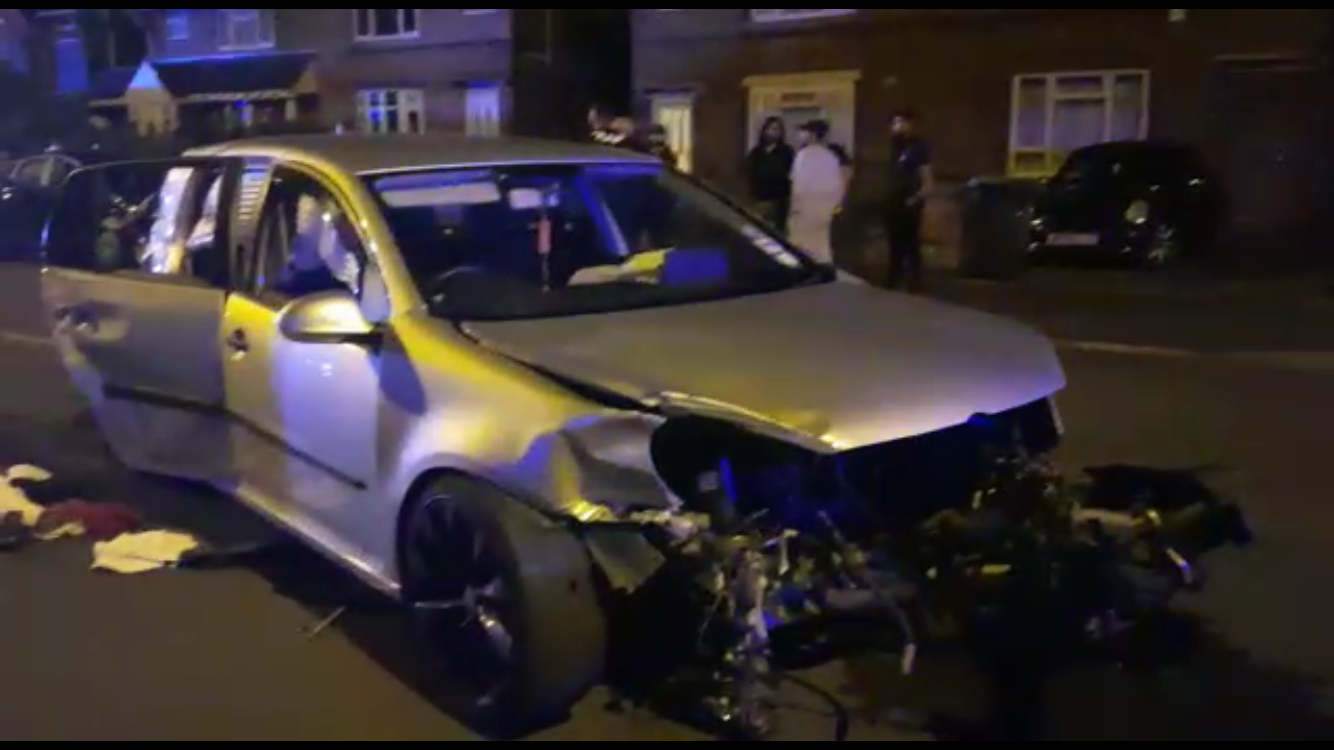 She said it was the third accident in the year since she had moved in to the road.
Two eyewitnesses described how they were saved by a cigarette lighter.
Work colleagues Sanu Ullah and Emad Ahmed had just pulled up, when they described seeing the Golf skidding towards their car.
Mr Ahmed, 39, who was being dropped off by 40-year-old Mr Ullah, had gone to his front door just moments earlier, but went back to the car to borrow a lighter from his friend.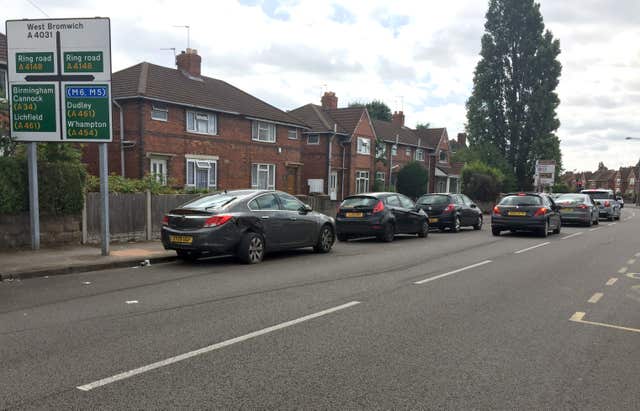 Instead, their Seat Alhmabra was scraped in a glancing blow, with the Golf then ploughing into the back of a stationary Vauxhall Vectra, on the opposite side of the road.
Mr Ahmed said: "We were very lucky – if I didn't ask for the lighter, my friend was just about to pull out; if I didn't stop him pulling out, it would have been life-threatening for us."
Mr Ullah said: "I was dropping him off, and as I looked up I heard this car, and he must have been coming at 60-70mph towards us.
"A car came from the junction, to his left, and he pulled round it and as he did he just seemed to lose control and went straight into the car parked in front of us, then scraped the side of my car.
"It was a really loud bang, like a bomb."
Mr Ullah said: "He got out the car, went over to where the injured man was, and he was still breathing.
"The driver went over, looked at him lying there, and shook his head, and then he went over to the car, and then came back to look at the guy again, but by the time the police came he was gone."
He added: "I've never seen an accident like that before – we're very lucky."
Detective Sergeant Paul Hughes, from West Midlands Police's Serious Collision Investigation Unit, is appealing for witnesses to contact police.
He said: "This is a tragic incident in which a teenager has lost his life and our thoughts are with his family at this tragic time.
"We are doing all we can to trace the driver. It's only a matter of time before we catch up with him so I would urge that person to do the right thing and come and speak to us so they can explain what happened."