Mark Carney has warned that the possibility of a no-deal Brexit is "uncomfortably high" and will lead to higher prices, as Prime Minister Theresa May cuts short her holiday to try to win support for her blueprint.
The Bank of England Governor said both the UK and EU should "do all things to avoid" a no-deal scenario.
He added that the banks have done the "stockpiling" and the country's financial system is in a position to be able to "withstand a shock" which could result from the UK leaving the EU without an agreement.
Mr Carney's comments came ahead of Mrs May meeting French President Emmanuel Macron at his summer retreat, Fort de Bregancon, on a small island off the French Mediterranean coast.
After the hastily arranged talks, Mrs May and her husband Philip will join Mr Macron and his wife Brigitte for a private dinner.
Mrs May is ending her break in the Italian Lakes a day early in the hope of winning over the Frenchleader, one of Europe's key powerbrokers, although she will jet off to Switzerland for a second break later this month.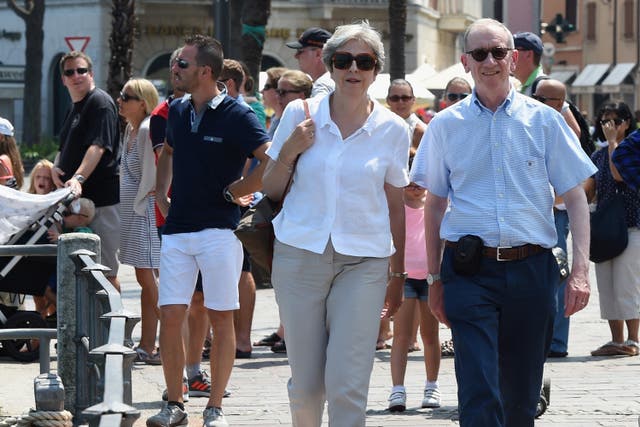 Asked if no deal would be a disaster, Mr Carney said: "It is highly undesirable. Parties should do all things to avoid it."
Pushed on what no deal would mean for people, Mr Carney said "disruption to trade as we know it" before adding: "As a consequence of that, a disruption to the level of economic activity, higher prices for a period of time.
"Our job at the Bank of England is to make sure those issues don't happen in the financial system so that people will have things to worry about in a no-deal Brexit, which is still a relatively unlikely possibility but it is a possibility, but what we don't want to have is people worrying about their money in the bank, whether or not they can get a loan from the bank – whether for a mortgage or for a business idea – and we have put the banks through the wringer well in advance of this to make sure they have the capital."
Mr Carney, pressed on whether the preparations were to guard against a run on the bank, said it was the "exact opposite", to ensure the banks can lend to the economy to "advance not retreat".
Asked if he believed this situation could emerge, Mr Carney replied: "No, no, no, no, no, no, no – we won't be in that situation, we will not be in that situation.
"The UK financial system has tripled the amount of capital they had over the course of the last several years, they have increased the amount of liquidity – the money they have on a day-to-day basis – by 10 times over the course of the last several years.
"The reason they have done that is to be in a position to be able to withstand a shock, wherever the shock comes from – it could come from China, it could come from abroad, it could come from a no-deal Brexit.
"We have meticulously gone through the types of risk associated with a no-deal Brexit to make sure the institutions are in a position."
Mr Carney later said the financial system will be ready for that "undesirable and still unlikely possibility", adding that it was run through a "stress test" scenario of house and commercial real estate prices decreasing by a third, interest rates going up by almost four percentage points, unemployment increasing to 9% and the economy going into a 4% recession.
He reiterated that this was not a prediction of what could happen if there was no Brexit deal, but to provide an idea of what the system could withstand.
Mr Carney said: "We have been planning for very difficult circumstances and the banks are ready."
He added that the Bank of England's 2016 predictions for the UK economy were "bang on", arguing: "When you adjust for the stimulus we've given, the stimulus the Government has given and the strength of the global economy, it's about 1.75 or two percentage points lower than it otherwise would have been – that's our projection on projection estimate. That is a big difference.
"So we've gone from the fastest to the slowest growing in the G7, we've had a big shift in sterling – 17 percentage points – and we went through the latter half of 2016 and last year with a real pay squeeze on British households, which we're just getting out of."
On the transition period, Mr Carney said: "We'll take the two years. We'll make it enough."