Ireland's ladies hockey team was given a hero's welcome in Dublin after winning a silver medal in Sunday's World Cup final.
Hundreds of supporters lined Dublin's Dame Street with flags and banners to welcome the side and their support team to a celebration hosted by Dublin's Lord Mayor Nial Ring.
Speaking at the event, Mr Ring said it was a historic occasion for the nation.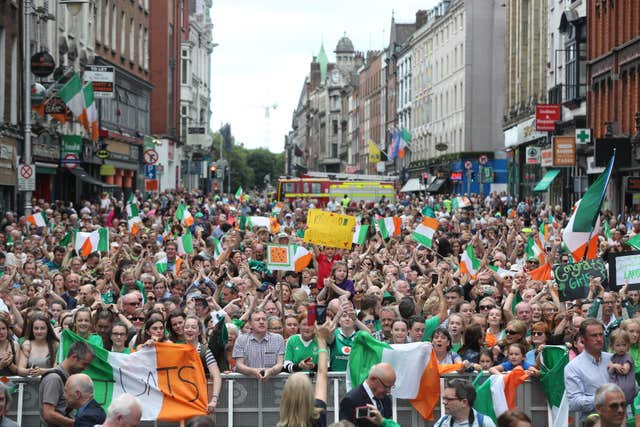 "Let them be an inspiration to you.
"We have a great tradition of sport in Ireland and these underdogs had the skill and the determination.
"These girls have proven we are the best. Thank you for making us so proud to be Irish."
Minister for Transport, Tourism and Sport Shane Ross had earlier announced that Sport Ireland would receive an additional 1.5 million euro (£1.34m) in funding, with a significant portion given to Hockey Ireland.
"This is possibly the greatest day ever in Irish sport," he said.
"The one winner yesterday was the Irish team, they are winners, what they have done for sport, Ireland and women is absolutely unprecedented.
"The funding is coming, and in direct response the government has decided we will allocate 1.5 million for Olympic preparations.
"You can thank the Irish team for that. It reflects the pride of the people, I want to say thank you, and we'll celebrate this for a long time."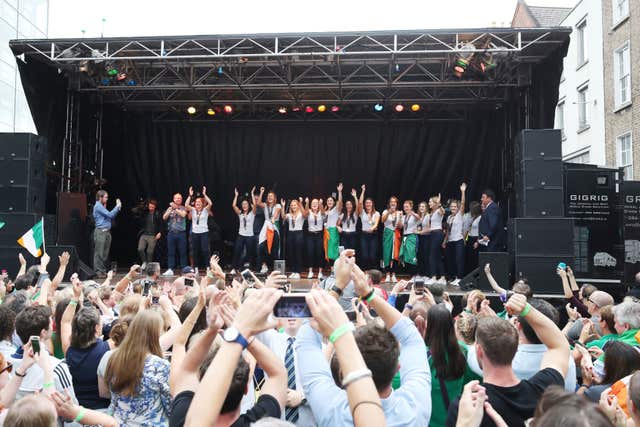 "Yesterday was a testament to the character of the team and the people that they are, to show the bottle that they did.
"We had no idea how many people were watching at home.
"We're very grateful to all the supporters and non-hockey supporters that turned out for us."
The side, captained by Katie Mullan, have won legions of new fans with their underdog journey to the final and hailed the sacrifices made and the hard work put in by each girl to reach the final.
The team finished the event with a group sing-song of their unofficial anthem, All I Want For Christmas Is You by Mariah Carey.
Netherlands were crowned winners for a record eighth time after a 6-0 win over Ireland at the World Cup in London on Sunday.
Despite the defeat, Ireland – with players from both sides of the border – are expected to climb up to 10th in the world rankings for the first time.