Pass rates for pupils sitting Scottish exams remain high but have fallen year-on-year, according to official figures.
The Scottish Qualifications Authority (SQA) published exam results for 135,000 pupils on Tuesday.
There were 191,951 entries for Higher exams in 2018, with 147,419 attaining a pass grade of A-C.
The attainment rate of 76.8% is sightly lower than 77% in 2017, when there were 194,813 entries.
The attainment rate was 91.1% for the National 4 exams, with 96,613 passes, while pupils achieved 218,201 passes at National 5, with a success rate of 77.4%.
The figures are down on 2017 when the attainment rate for National 4 was 92.8% and 79.5% for the National 5.
Advanced Higher passes rose to 19,585, with a pass rate of 80.5%.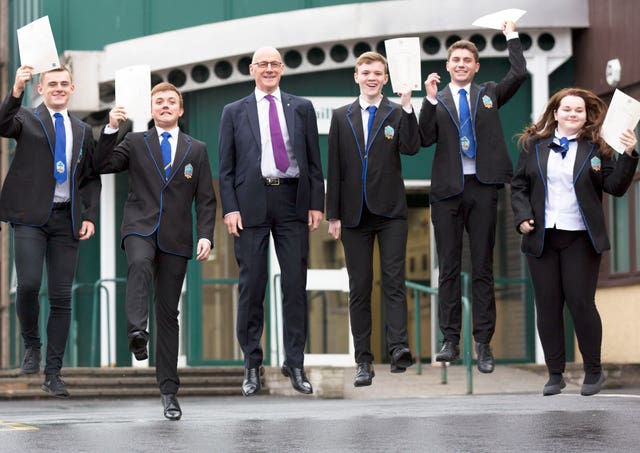 "Higher passes remain stable despite a continuing fall in the number of young people on the school roll while the number of Advanced Highers being taken continues to grow.
"It is important to remember that we will always see slight variations in pass rates and the results show that we have a robust, credible assessment system in place.
"To address pupil and teacher workload, this is the first year where unit assessments have been removed from National 5 and the overall pass rate remains high at 77.4%.
"It is clear that our young people have performed strongly, against rigorous standards, and are now in an exciting position to decide what they go on to do next."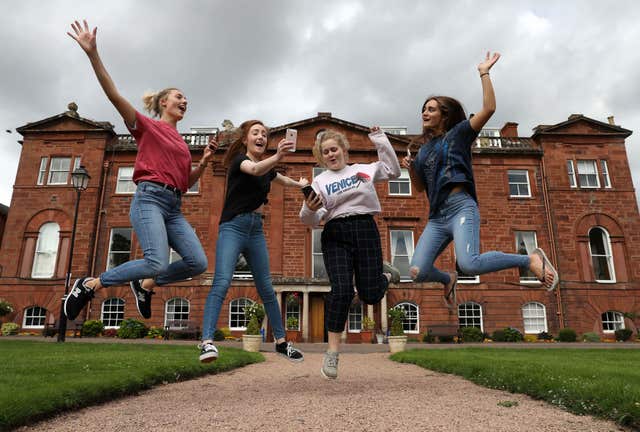 Tory education spokeswoman Liz Smith accused the SNP administration of "complacency".
"There's no escaping the fact that, for a government which claims its priority is education, these are disappointing statistics," she said.
"There has been no improvement in overall attainment across the board and these statistics confirm there are still major issues about the mix between National 4 and National 5 qualifications."
Labour's Iain Gray said: "The real concern is that these falls in attainment are now clear trends over a number of years.
"It would appear that years of cuts to school budgets and teacher numbers, along with the narrowing of the curriculum and reduced course choice, are now having an impact on exam results."
Green MSP Ross Greer said: "Careful consideration needs given to this third consecutive drop in Higher passes and the potential of it becoming a trend."
Meanwhile, figures from the Universities and Colleges Admissions Service (Ucas) show 29,830 Scottish students have had their UK higher education places confirmed, up 4% on last year.
A record number of Scottish students secured a place at a Scottish university, up 4% to 28,970.
The number of prospective students from the most-deprived areas of the country successfully getting a place at a UK university rose by 5% to 4,340.
Mr Swinney said the figures demonstrated "good progress" on widening access.
NUS Scotland president Liam McCabe said: "While it is encouraging to see a modest rise in the proportion of Ucas acceptances for those from the most disadvantaged backgrounds, we can't lose sight of the fact there is much more to do to ensure more students from the poorest areas make it into higher education."
Skills Development Scotland (SDS) has a dedicated exam results helpline on 0808 100 8000.