A teenager given a 1% chance of recovery from a horrific ski crash has celebrated seven As in his exam results.
Ross Nesbitt was training with Glasgow ski racing team in Austria in December 2016 when he crashed and hit his head on a fence post, leaving him in a coma.
A third-year pupil at the time, he spent a month in hospital in Innsbruck and was transferred to Glasgow by air ambulance with a further six-and-a-half weeks in Scottish hospitals.
After weeks in intensive care, doctors told his family he had a 1% chance of making a full recovery as he had to learn how to walk, talk and eat again.
His mother Wilma said: "It was really touch and go at times, we didn't know whether we were going to get our boy back but it didn't take very long before there were signs that Ross was improving.
"The first thing was switching on his mobile phone and putting his code in, and we knew he was still with us, but he had quite a long time recovering.
"He had to learn to swallow, how to walk and talk again. He had lost 18kgs in weight over the initial period and had a tube in his stomach to feed him, so it's remarkable with the help of all the team at the Children's Hospital in Glasgow that we walked out of there."
Ross initially returned to school for a couple of days a week and also had extra tutoring with teachers to help him catch up.
After a year of hard work in S4, the 16-year-old is now celebrating seven As and a B in his National 5 exams.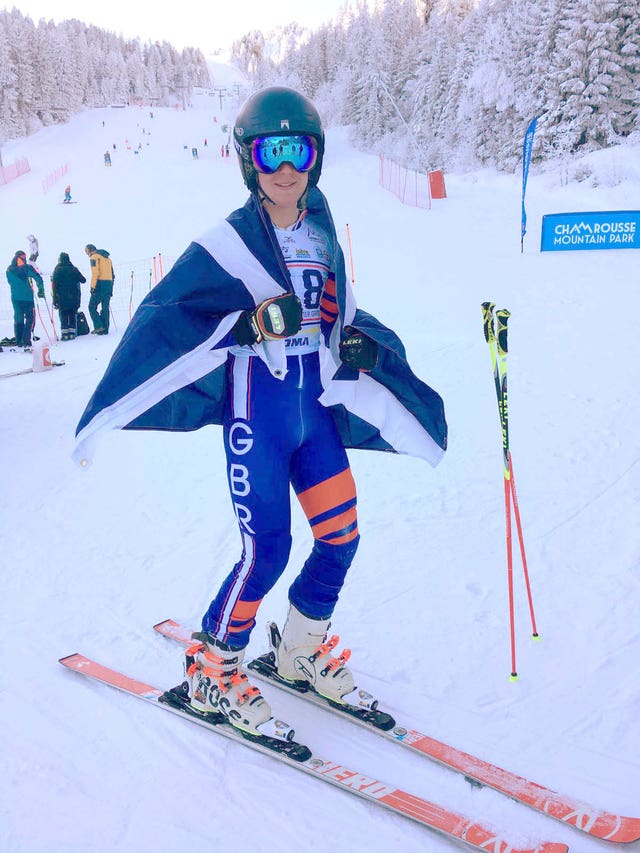 Speaking about his progress since the accident in 2016, he said: "I was heading down to the lift and decided to take a shortcut off the track of the slope and hit a lot of snow and flew forward and banged my head on a fence post.
"I had to relearn how to walk and talk and do basic things again.
"I knew when I went back to school they weren't going to make me do the S3 exams, so I didn't have that pressure on me.
"The school were really helpful, I came in a couple of days a week and then for sessions with my teachers to help me catch up with what I missed in most subjects."
Mrs Nesbitt thanked medical staff and teachers for helping her son.
She said: "I was working when he got his text but I believe he jumped out of his skin and was so pleased. We're just absolutely ecstatic with his results."
Ross will return to Williamwood next week for fifth year and is unsure what he will do after school, but will make sure skiing is still part of his life.
"I've not really thought much about what I want to do," the 16-year-old said.
"I was going to wait to get the results to have a think about it but I'm still skiing, the accident was never going to put me off."
Mrs Nesbitt added: "It's what he wants to do. It's what drives him and he loves skiing.
"He's had a few races recently and been on the podium, maybe not first but he's nipping at their heels."