Drastic cuts to jobs and services are expected at cash-strapped Northamptonshire County Council, as councillors meet to consider an action plan designed to deal with a budget shortfall of up to £70 million.
Proposals to be discussed at a special meeting of the authority on Thursday include an unspecified number of redundancies and "radical" cuts to areas including children's services, road maintenance and waste management.
And the body representing England's county councils said other authorities are likely to be forced to follow suit, with East Sussex already announcing it is scaling back services to residents to a legal minimum "core offer".
Research released by the County Council Network (CCN) in June suggested that England's 36 shire authorities face funding pressures totalling £3.2 billion over the next two years alone, with just 33% confident they will be able to produce a balanced budget beyond 2020/21.
County councils have seen their core funding from central government slashed by almost 43% over four years to just £161 a head in 2019/20 – compared to £460 in London – said the CCN.
Whitehall-imposed commissioners were sent in to run Northamptonshire earlier this year, after the authority revealed a projected overspend of £21 million for 2017/18.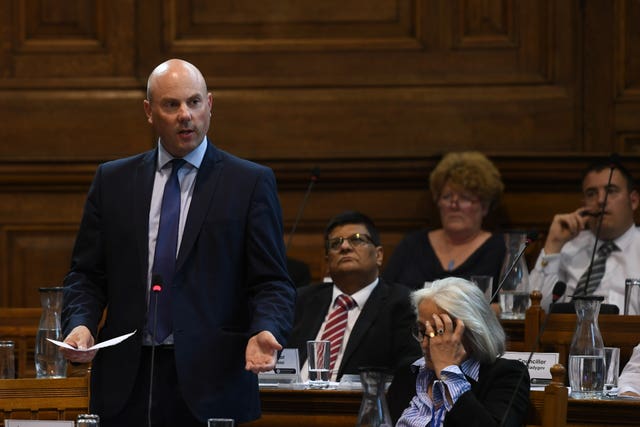 Council leader Matt Golby acknowledged that balancing the county's books would require "some very difficult decisions" including "rigorous controls on spending, recruitment and contracts".
A spokesman for the Ministry of Housing, Communities and Local Government (MHCLG) said: "It is essential residents are able to have faith in their council, particularly in the responsible use of taxpayers' money.
"The financial challenges facing the council are clearly serious and reinforce how important it was that we took swift action to appoint commissioners.
"These commissioners will continue to work closely with the council as it takes the necessary steps to rebalance its finances."
CCN chairman and Kent County Council leader Paul Carter said: "Northamptonshire has not managed austerity well and there is evidence of poor management and decision-making. However, this shouldn't detract from the significant challenges facing all counties.
"Shire counties face a triple whammy of funding reductions, rising demand for services and are the lowest-funded type of authority. Counties are shouldering a disproportionate burden and the elastic is close to breaking."
Without additional financial support from the Treasury, county councils across England will face "truly unpalatable" choices in order to be able to deliver legally-mandated services next year, he said.
"High-performing authorities such as East Sussex won't be the last to set out a 'core offer', providing little more than statutory services, without additional help," said Cllr Carter.
"It is clear that unless Government finds a long-term solution to council funding and a fairer distribution of resources between authorities, other well-managed county councils could find themselves unable to balance the books."
Responding to the CCN's warnings, the MHCLG spokesman said: "We are providing local authorities with £90.7 billion over the next two years to meet the needs of their residents.
"We are also giving them the power to retain the growth in business rates income and are working with local government to develop a funding system for the future based on the needs of different areas."
Unison's assistant general secretary Christina McAnea said: "The situation in Northamptonshire is dire and an utter disgrace. The council has created an atmosphere of fear and uncertainty for local residents and for staff.
"Local communities shouldn't have to suffer because of poor financial management and bad decision-making by this council.
"For years, Unison warned that the council was taking a dangerous route with its extreme outsourcing policy which has essentially caused it to go bankrupt.
"Despite promises to keep the most vulnerable safe it's hard to imagine how worried families across the county are feeling.
"Residents at crisis point have little hope of getting any help from the council. The criteria to access services will no doubt be severely restricted, and vital staff who deliver them cut.
"Our main concern is that this is just the tip of the iceberg, as councils up and down the country are facing huge cuts to budgets."