Fire services may need to apply for emergency government funding to help cover the cost of a significant increase in the number of wild and grass fires in 2018.
Prolonged spells of "exceptionally dry and hot weather" turned much of the country into a tinderbox between May and July, leading firefighters in some parts of northern England to attend almost 2,000 wildfires in the period, nearly three times more than on any other recent year.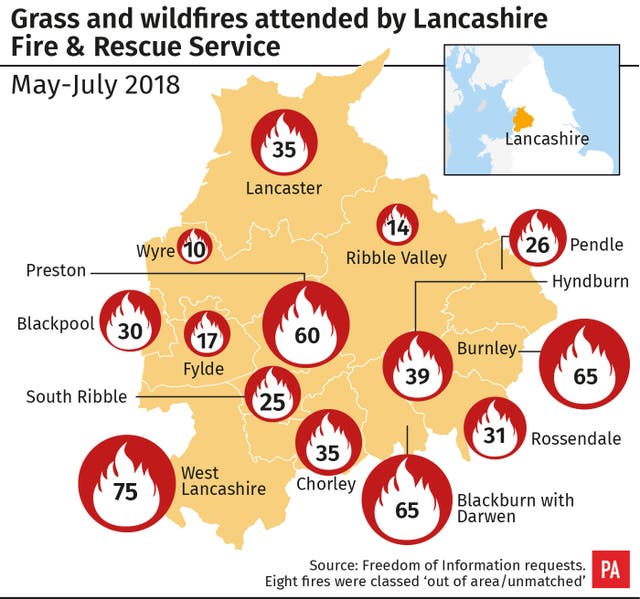 Figures from Lancashire and South Yorkshire Fire and Rescue Service, obtained by The Press Association through a freedom of information request, are the first clear insight into the scale of the wildfires in a summer dominated by headlines of fires engulfing rural areas across the country.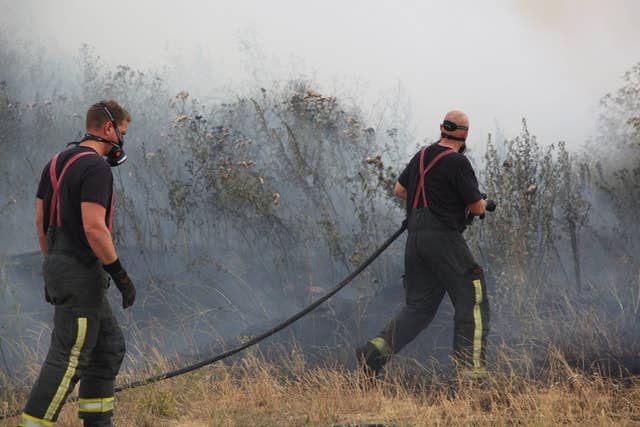 Tony Carlin, head of emergency response at South Yorkshire Fire and Rescue, had previously praised firefighters for working in "hot, difficult conditions" during a "busier than usual period".
The data shows there were nearly four times more fires on grassland, pasture, or riverbanks in 2018 than in the previous years, almost three times more on roadsides or scrub land and more than twice as many fires in gardens or on allotments.
More than 70% of fires in South Yorkshire were believed to be started deliberately, although there was no great difference in the proportions from previous years. Almost a third were accidental and the cause for nearly 3% was unknown.
The number of deliberate fires in Lancashire – classed as those started with intent to cause damage and disruption – decreased on previous years to almost half, while the amount of fires with an unknown cause increased.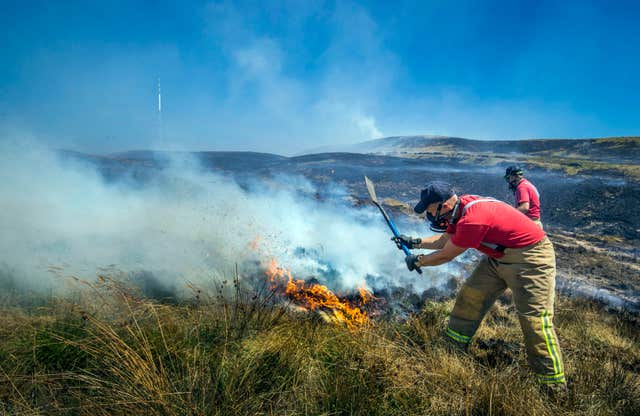 He continued: "It would seem that there's a lot more to be done in terms of public education. If someone is burning rubbish or garden waste in the garden and doesn't take account of the conditions, a spark can set fire to grass, trees, a neighbour's fence. So it seems there is more to be done."
South Yorkshire Fire and Rescue's control room took 336 emergency calls in one day in late July, after which Mr Carlin called on the public to take greater care over discarding cigarette butts or glass and the position of fires.
West Lancashire, between Liverpool and Preston, was the worst affected local district for which data was provided, with firefighters called out 75 times over the period to attend fires on grassland, roadsides or scrub land.
Ninety-five per cent of the wild or grass fires were attended by fewer than five "appliances", but a huge fire at Winter Hill, south of Blackburn, threatened to encroach on residential areas over the summer.
Firefighters from 20 different services spent nearly three weeks battling the blaze, which covered 18 square kilometres (6.9 squares miles).
A full debrief into the costs around the Winter Hill fire and the wider issue of wild and grass fires has yet to be conducted, Mr Taylor said.
"Moorland fire is not on a par with something like Grenfell but it's important nonetheless, and it isn't something we want to brush aside as being a lesser priority," he said.