Police have defended their decision to shut a railway station while dealing with chaotic queues as people tried to get a train home from Brighton Pride.
Revellers complained of being "crushed" against the gates which were shut at Brighton train station on Saturday night when huge crowds arrived after Britney Spears finished her headline performance at the festival.
Sussex Police previously denied being behind the decision to close the gates, which was criticised online by those caught up in the queues.
On Monday, a force statement said: "The Sussex Police command team for the operation did not request that the gates at the station be shut.
"During the planning of the event we made it clear that there needed to be a robust plan at the station and good transport arrangements. This was the responsibility of other partners to arrange."
But in a joint statement on Wednesday from the force's assistance chief constable Steve Barry and British Transport Police's assistant chief constable Charlie Doyle, it was confirmed officers did make the decision, but it was "necessary" to keep everyone safe.
The statement said: "Just after 11pm, a British Transport Police officer asked a Sussex Police officer to go to the front of the station to make an assessment on the number of people arriving.
"A decision was quickly made by the Sussex Police officer to close the gates, and with the support of station staff, the station was temporarily closed.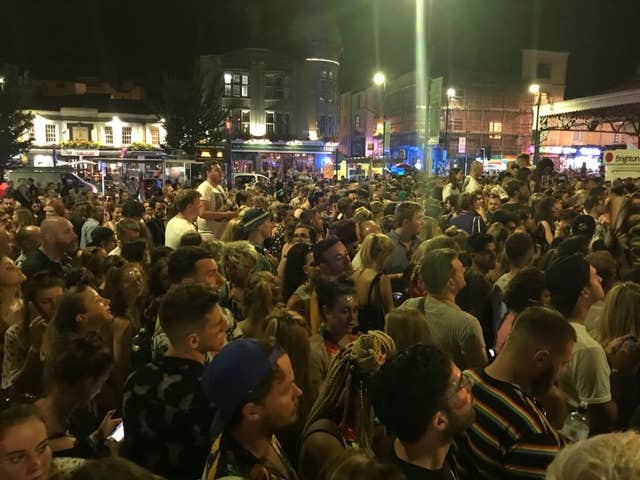 "Safety is our main priority and this decision was necessary in order to prevent further harm coming to passengers and staff within the station.
"We understand this decision resulted in people being delayed in getting home, but it was essential to prevent a dangerous situation from escalating."
The latest statement also highlighted problems with a lack of trains and the queuing system, adding: "It was evident that the queuing system at the station was unable to cope with the number of people, resulting in potentially dangerous overcrowding on the concourse and platforms.
Earlier in the week, event organisers said they were "appalled" to see attendees stranded because of "insufficient train services" and expressed disappointment with train operators as pictures surfaced showing hundreds of people waiting to try and get onto the platforms.
Southern Railway said measures were put in place following concerns of overcrowding, having earlier warned that the station could be closed at short notice.
The incident prompted Brighton and Hove City Council to open up the Brighton Centre conference and concert venue for anyone needing somewhere to stay while waiting for a train. Many gave up trying to travel and were said to have slept on the beach instead.
The police forces thanked members of the public for their "understanding and patience". Lessons would be learned and plans would be reviewed for the future, they said.