Work has begun on a permanent memorial to the victims of the Shoreham Airshow tragedy.
The series of sculptures and artwork is being assembled with installation expected to start at the end of the month, Adur District Council said.
Eleven men died when a vintage Hawker Hunter jet crashed on to the A27 in West Sussex during the Shoreham Airshow on August 22 2015.
The news comes a fortnight before the third anniversary of their deaths.
Pilot Andrew Hill has denied charges of manslaughter by gross negligence and recklessly or negligently endangering an aircraft under air navigation laws. The 54-year-old is due to stand trial in January.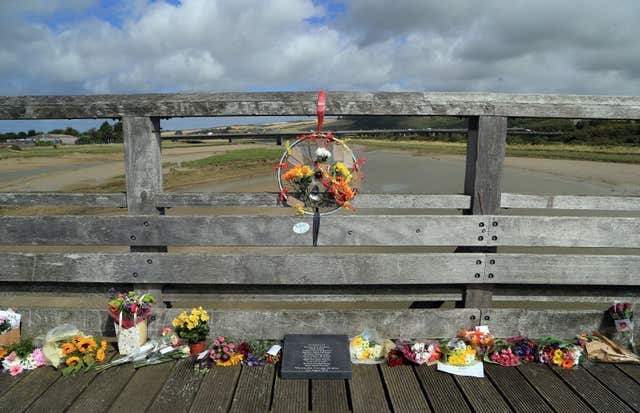 A bench will be placed on the banks of the River Adur near 11 arches – one for each victim – by the entrance to the Shoreham Toll Bridge, where mourners flocked in the wake of the disaster to leave flowers.
This will overlook a subtle light installation on the opposite side of the river.
Ms Fordham said the designs may not look like a traditional memorial but were intended to create a place for reflection. The concept was picked by relatives of the victims, many of whom have been involved in the design process, the council said.
It is not yet clear when the work will be completed.
Councillor Emma Evans, the council's executive member for environment, said: "Jane and David have created a wonderful piece of outdoor art for people to both remember those lost in 2015 but also to enjoy as they walk through this beautiful environment."
The money was raised by council officers and donations from neighbouring authorities and businesses.
The victims were Maurice Abrahams, Dylan Archer, Anthony Brightwell, Matthew Grimstone, Matthew Jones, James Mallinson, Mark Reeves, Jacob Schilt, Richard Smith, Mark Trussler and Daniele Polito.