A Tory former chief whip has backed Boris Johnson in the burka row, saying he had no need to apologise for making inflammatory comments about Muslim women.
Andrew Mitchell said the former foreign secretary had used "colourful" language but had not committed an offence.
Mr Johnson also won support from a surprising source when comedian Rowan Atkinson waded into the furore.
The Blackadder and Mr Bean star said the former Cabinet minister had made a "pretty good" joke when he suggested women wearing face-veils looked like letterboxes, and insisted it was pointless to apologise for joking about religion as it always causes offence.
In a letter to The Times, he wrote: "You should really only apologise for a bad joke. On that basis, no apology is required."
Mr Johnson is facing investigation by an independent panel following complaints that his comments on the burka breached the Conservative Party's code of conduct.
Mr Mitchell, who was chief whip in 2012, told BBC Two's Newsnight: "I don't think he should apologise.
"But I think what's important is that the procedures of the party now take place.
"This is quite an important issue about free speech and it's got nothing to do with the dreadful events that take place over Enoch Powell and the Rivers of Blood speech.
"Boris was speaking out against a ban of the type that's taken place in Denmark and some other countries."
Despite the row engulfing the Conservatives, the latest YouGov poll for The Times put the party four points ahead.
The research found that 39% of the public would vote Tory, an increase of one point on the previous week when both parties were level.
Labour, which has faced continued pressure over its handling of anti-Semitism in the party, fell three points to 35%.
Theresa May was 14 points ahead of Jeremy Corbyn, up seven points on last week, on the question of who would make the best prime minister.
The PM, Tory chairman Brandon Lewis and Scottish Conservative leader Ruth Davidson have all urged Mr Johnson to apologise in the Burka row.
But the former Cabinet minister, who is holidaying abroad, has made no response to demands for an apology.
And sources close to the Uxbridge MP made clear earlier this week that he stands by the article on Monday, in which he argued against a burka ban, but said that the garment was "oppressive" and "ridiculous".
Disciplinary action could lead to Mr Johnson being suspended or even expelled from the Tories, but would risk igniting civil war in a party many of whose members see him as the best option to succeed Mrs May as leader.
Under party rules, the head of the investigation may dismiss complaints that are obviously trivial or lacking in merit and those which cannot fairly be investigated.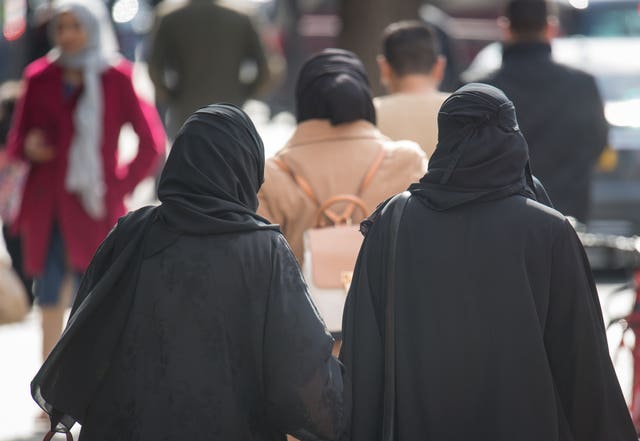 The Tory peer said he had received a wave of abuse since speaking out against Mr Johnson.
Of the 75 emails he had received about the issue, 15 were supportive while the rest "were vile".
He told Newsnight: "I hope Boris Johnson realises he has let the genie out of the bottle."
– YouGov interviewed 1,675 adults in Britain on August 8 and 9.