The recent dry weather could have been a contributing factor in the rock fall which killed a nine-year-old girl in Staithes, experts have said.
The youngster suffered head injuries during the incident in Seaton Garth, North Yorkshire, and died at the scene on Wednesday.
According to the British Geological Survey (BGS), the steep cliffs in the area are of Jurassic age.
Dr Helen Reeves, science director for engineering geology at the BGS, said: "Recent weeks have seen an increased number of cliff falls reported around our coastline in the UK.
"Landslides, including rock falls, are commonly triggered in the UK by rainfall. In this instance, the recent unprecedented warm, dry weather is likely to be a contributing factor.
"Current research has linked rock falls to temperature fluctuations, but the research to fully understand this process is still ongoing."
Dr Reeves also reiterated warnings from the RNLI and local councils about staying away from potentially dangerous areas.
"Take notice of warning signs. Do not go directly under or on top of cliffs as our coast is a dynamic environment that is changing all the time," she said.
A woman who lives in the nearby village, and wished not to be named, said locals knew not to go too close to the cliffs as minor collapses were common.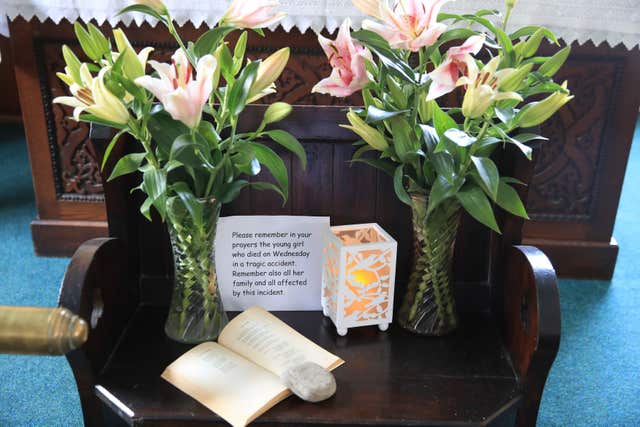 She said locals believe the recent weather has made the cliffs more unstable, especially with a long dry spell followed by heavy rain.
One cottage in the village has recently showed dramatic movement, with the homeowner having to leave through a window after hearing a loud crack.
The cliffs are formed of Staithes Sandstone and Cleveland Ironstone Formations.
The Staithes Sandstone forms the lower part of the eastern cliff section and consists of alternating sequences of weak siltstones and strong blocky sandstones.
However, the overlying Cleveland Ironstone is a sequence of predominantly weak siltstones and strong blocky ironstones, which forms the upper section of the cliff face.
The weaker layers can be more easily weathered and eroded, leaving unsupported blocks which can ultimately fall as a rock fall.
The Met Office said that in general the weather charts for the Staithes area indicate August has been warm so far, with temperatures in the low to mid-20s and dry, apart from on August 3 when 5.8mm of rain fell.