England cricketer Ben Stokes denied "exaggerating" claims that two men were being homophobic to two gay clubbers before he knocked them unconscious near a nightclub.
The 27-year-old all-rounder insisted he had intervened to stop Ryan Ali, 28, and Ryan Hale, 27, from abusing gay men William O'Connor and Kai Barry.
Ali allegedly replied "F*** off or I'll bottle you" and swung a beer bottle at Stokes's England teammate Alex Hales before delivering a glancing blow to Mr Barry's shoulder.
Giving evidence for a second day, Stokes said he could not remember the words used by Ali and Mr Hale when they were abusing the gay men near the Mbargo nightclub on Clifton Triangle, Bristol on September 25 last year.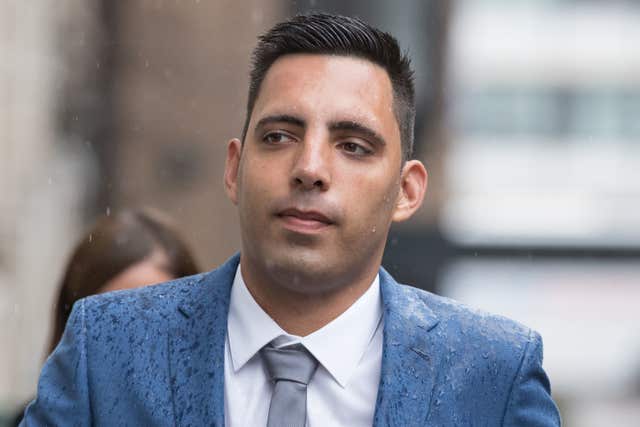 "The temperature obviously rose as I started to intervene with what the two guys were saying towards Mr Barry and Mr O'Connor.
"Mr Barry and Mr O'Connor were shouting back at Mr Hale and Mr Ali."
Onlooker Max Wilson, who filmed the incident from his bedroom window above, told the court it appeared to start with one man shoving another but Stokes could not recall this.
He described Ali as "aggressive and violent" towards himself, Mr Hales, Mr Barry and Mr O'Connor.
Anna Midgley, representing Ali, asked Stokes: "You have overexaggerated the exchange between Mr O'Connor and Mr Barry and the two Ryans in an attempt to justify your own violent behaviour?"
He replied: "No."
Stokes said: "They weren't my friends, that's what I chose to call them at the time."
Miss Midgley accused Stokes of not taking responsibility for his behaviour, with the cricketer insisting: "It's clear in my statement that I admit to throwing multiple punches."
He said he felt "constantly under threat" during the alleged fracas.
Stokes told the jury that he had drunk a bottle of beer immediately after a one-day international win against the West Indies in Bristol hours before.
After returning to his hotel, Stokes consumed two to three pints of lager at a meal with other players and their partners.
Stokes, along with cricketers Jake Ball, Alex Hales, Jonny Bairstow, Liam Plunkett and James Anderson left the hotel at 11.25pm and caught taxis to the Mbargo nightclub.
The defendant said he drank six or seven vodka and lemonades while at Mbargo and Pryzm, another nightclub in Bristol, as well as "a few" Jagerbombs.
Nicholas Corsellis, prosecuting, suggested that Stokes's eyes were "glazed" and his speech slurred in bodycam footage following his arrest.
Stokes replied: "No."
Mr Corsellis said: "You seem to have a really significant memory blackout. You don't remember really significant parts of this incident do you, for example knocking Mr Ali out?"
Stokes answered: "You could say that, yes."
He denied his lack of recollection was due to being drunk and said he could not say whether he had been hit in the head during the incident.
Mr Corsellis accused of Stokes of lying to the jury and "hiding behind" a lack of recollection because he knew "full well" that he had acted out of revenge.
Stokes replied: "No, all my actions were in self-defence and fearing for my safety."
Mr Corsellis accused Stokes of thinking "I am going to show you what violence is" and "I am going to retaliate and I am going to punish you and hit you out of revenge" before knocking Ali and Mr Hale unconscious.
He accused Stokes of being "an angry man who has lost all control" and questioned why he had not stopped when told to by teammate Mr Hales.
"Everybody was shouting at you," Mr Corsellis told Stokes. "Everybody wanted you to stop."
Stokes replied: "At that moment in time, I didn't feel like I could."
Mbargo door supervisor Andrew Cunningham previously told the court that Stokes became "enraged" after he refused to let him and Mr Hales re-enter the club as it was after 2am.
He claimed Stokes made abusive comments about his four gold teeth and tattoos.
Stokes denied this and said he had instead told Mr Cunningham: "Come on mate, I've got shit tattoos as well."
CCTV footage appears to show Stokes looking down his nose at Mr Cunningham, pointing at him and shouting.
But Stokes told the jury: "I might just be looking at the night sky."
Mr Corsellis asked: "Who were you speaking to when you were looking at the night sky?"
Stokes replied: "God?"
Stokes, of Stockton Road, Castle Eden, Durham, and Ali, of Forest Road, Bristol, each deny a charge of affray.
The trial will continue on Monday.