Boris Johnson's comments on the burka have been branded "inflammatory and divisive" by the Equality and Human Rights Commission.
The Commission said it had received a complaint from a member of the public, about Mr Johnson's controversial article in the Daily Telegraph, but has not launched an investigation into the former foreign secretary.
The Conservative Party's announcement on Thursday that Mr Johnson would face an inquiry has provoked a furious war of words, with many Tories regarding the move as an over-reaction.
Former chief whip Andrew Mitchell said there was no need for the former Cabinet minister to apologise for his "colourful" language.
The Daily Mail said it received one of its largest postbags ever from hundreds of readers, with 19 backing Mr Johnson to every one who was critical.
The Blackadder and Mr Bean star said the former Cabinet minister had made a "pretty good" joke when he suggested women wearing face-veils looked like letterboxes, and insisted it was pointless to apologise for joking about religion as it always causes offence.
In a letter to The Times, he wrote: "You should really only apologise for a bad joke. On that basis, no apology is required."
The EHRC indicated the complaint it received did not prompt an inquiry because it did not fall within its remit of investigating breaches of equality law, such as the denial of a service on the grounds of race or religion.
Chief executive Rebecca Hilsenrath said: "The effectiveness of our democratic society depends on freedom of expression and the expression of offensive and intolerant opinions is generally not unlawful.
"Boris Johnson's use of language in this instance, which risks dehumanising and vilifying Muslim women, is inflammatory and divisive.
"Political figures should lead by example, conducting debates in a responsible manner and language such as this can inhibit legitimate dialogue.
"The Conservative party has decided to conduct an investigation and will consider whether further action is necessary."
Mr Johnson, who is holidaying abroad, has so far made no response to the launch of the Tory investigation.
A panel including one independent figure, one representative of the voluntary party and one nominated by the backbench 1922 Committee, will look into complaints that his comments breached the Conservative Party's code of conduct.
Under party rules, the head of the panel may dismiss the complaints if they are found to be obviously trivial, lacking in merit or unable to be fairly investigated.
Disciplinary action could lead to Mr Johnson being suspended or even expelled from the Tories, but would risk igniting civil war in a party many of whose members see him as the best option to succeed Mrs May as leader.
The PM, Tory chairman Brandon Lewis and Scottish Conservative leader Ruth Davidson have all urged Mr Johnson to apologise.
But sources close to the former foreign secretary made clear earlier this week he stands by Monday's article, in which he argued against a burka ban, but said the face-covering veil was "oppressive" and "ridiculous".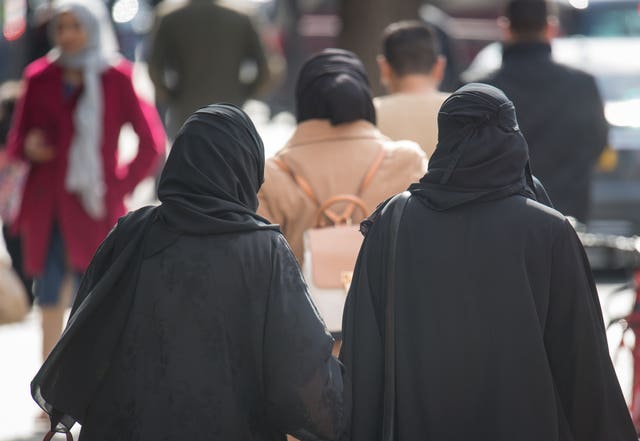 "But I think what's important is that the procedures of the party now take place.
"This is quite an important issue about free speech and it's got nothing to do with the dreadful events that take place over Enoch Powell and the Rivers of Blood speech.
"Boris was speaking out against a ban of the type that's taken place in Denmark and some other countries."
Despite the row engulfing the Conservatives, the latest YouGov poll for The Times put the party four points ahead.
The research found 39% of the public would vote Tory, an increase of one point on the previous week when both parties were level.
Labour, which has faced continued pressure over its handling of anti-Semitism in the party, fell three points to 35%.
Theresa May was 14 points ahead of Jeremy Corbyn, up seven points on last week, on the question of who would make the best prime minister.
– YouGov interviewed 1,675 adults in Britain on August 8 and 9.