Prisoners have received more than a million pounds in compensation for lost or damaged property in the last five years, new figures reveal.
Over 13,000 taxpayer-funded payouts have been made since 2013 for items including clothing, trainers, DVD players and hair clippers.
In December, the Press Association revealed that 10,357 compensation payments were issued to inmates held at state prisons in England and Wales for lost and damaged property from 2013-14 to 2016-17.
Six-figure sums were paid out in each of the four years, adding up to £855,541.02.
New statistics obtained from the Ministry of Justice (MoJ) following a further Freedom of Information request by the Press Association show 2,666 awards were made in relation to prisoners' belongings in 2017-18, at a total cost of £220,053.78.
It means £1,075,594.80 has been paid out since 2013, while the number and value of payments went up in the last financial year despite a watchdog highlighting the problem.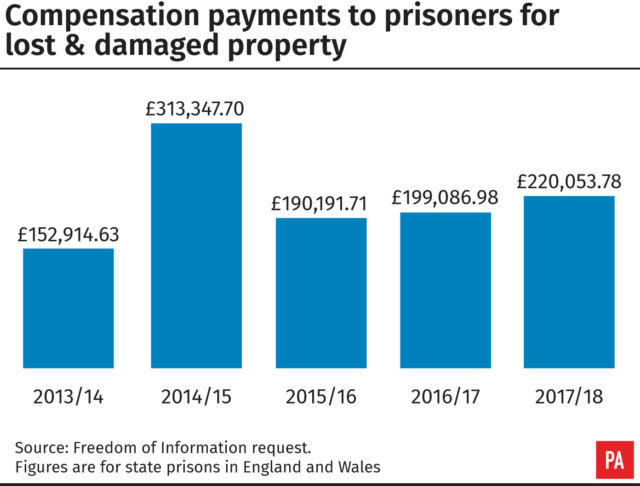 A sample of cases in 2017-18 shows compensation was awarded for damage to tracksuit bottoms (£10), a T-shirt (£3) and a stereo (£150).
In one instance, £8.19 was paid out for "damage" to food "due to lockdown".
Awards were made for lost property including tobacco (£20.80), a DVD player (£68.99), a watch (£10) and a TV magazine (£0.57).
The earlier FOI response showed hair clippers, a dressing gown and trainers were among lost items covered by successful compensation claims in 2016-17.
There were 41 more compensation awards in 2017-18 compared to the year before and the total amount paid out was nearly £21,000 higher.
Authorised belongings can be held in possession, meaning the prisoner keeps the item on them or in their cell, while excess items can be stored locally at the jail or at a central depot.
Rules allow for inmates to lodge complaints and claims for compensation when property is lost or damaged.
Last year then Prisons and Probation Ombudsman Nigel Newcomen called on the prison service to "get a grip" on the way property is managed.
The issue has also been flagged up by independent monitoring boards at a number of prisons, with one recent report saying the disappearance of property on transfer between establishments seems to be an "intractable" problem.
Conservative MP Bob Neill, who chairs the Commons Justice Committee, said: "This issue has been raised at a number of our recent prison visits, so these figures do not come as a surprise.
"Property is a regular source of complaint to both the Prison and Probation Ombudsman and independent monitoring boards.
"Until prisons properly follow the clear guidance from the Ombudsman, scarce resources, not to mention taxpayers' money, will continue to be wasted.
"Prisons need to sort it out to ensure that they have an adequate system for property recording."
John O'Connell, chief executive of the TaxPayers' Alliance said: "This increase in payments to prisoners for lost and damaged property will concern many taxpayers across the country.
"Either the authorities are failing to treat prisoners at a standard they are legally required to, or they're giving out compensation payments too easily – both at the expense of hard-pressed taxpayers."
A Prison Service spokeswoman said: "We successfully defend two thirds of all compensation cases brought against us by prisoners.
"Where compensation is awarded, we always seek to ensure that payments are offset against outstanding debts owed to the courts and victims.
"In addition, a programme of work is underway to prevent the causes of claims to allow us to better protect taxpayers' money."