An eight-year-old boy with cystic fibrosis has urged a pharmaceutical company to lower the price of a drug so it can be made available on the NHS.
Orkambi received its European licence exactly 1,000 days ago, but the National Institute of Care and Excellence (Nice) has not recommended it for use on grounds of cost-effectiveness.
Luis Walker and hundreds of other children are expected to write to Vertex Pharmaceuticals on Wednesday, in a bid to bring a resolution to negotiations over the cost of the drug.
"If your son had cystic fibrosis I know you understand and lower the price of Orkambi."
Orkambi was approved by the European Medicines Agency on November 19 2015 but an agreement on cost has not yet been reached with the NHS.
Last month new Health Secretary Matt Hancock urged Vertex to break the "impasse", telling the House of Commons that NHS England had made a "very generous final offer" to the company.
Mum Christina Walker, from Horam, East Sussex, told the Press Association that Luis had come up with the idea to appeal to the drug company directly.
"To be honest, it came out of nowhere because we weren't even talking about it," she said.
"But he just said to me, 'Mummy, if the lady who sells Orkambi had a son with cystic fibrosis she'd understand you know'."
The 46-year-old added: "It's a really simple message, please lower the price so the NHS can afford it.
"Our children deserve the chance that everyone else has and they actually have it now with this drug."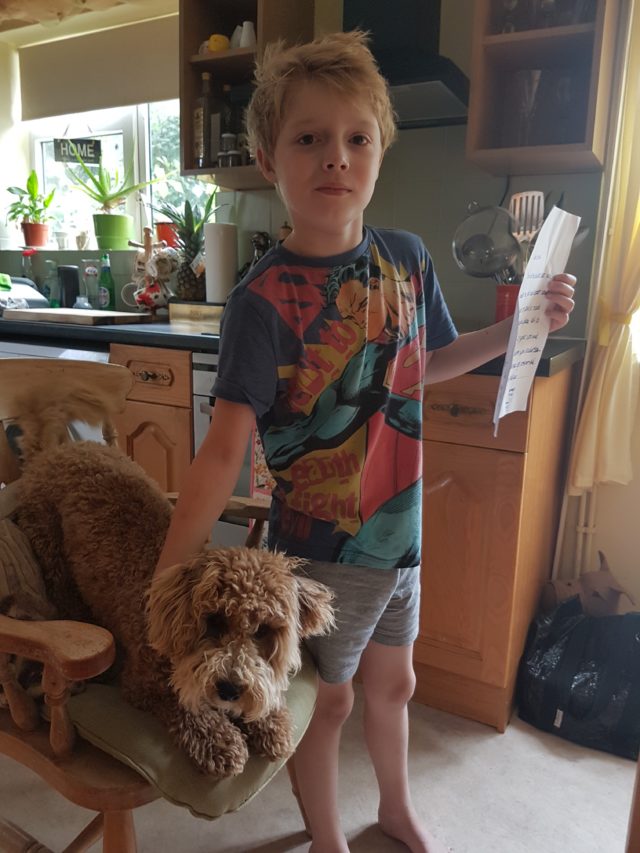 Ms Walker said that since then he has lost 13% lung function, but doctors believe Orkambi would help slow further decline.
Cystic fibrosis, which affects around 10,000 people in the UK, leads to sticky mucus building up in the lungs and digestive system.
Precision drug Orkambi has been shown in clinical trials to improve lung function and respiratory symptoms in people with the life-shortening condition.
It is thought to be appropriate for around 50% of people with cystic fibrosis.
Ms Hunt, of Vertex Pharmaceuticals, said: "We share the frustration of Luis and the thousands of people in England with cystic fibrosis who are still waiting for access to our medicines.
"We have spent every one of the thousand days since Orkambi was approved trying to get it to patients who need it; and again urge Simon Stevens to come to the table so patients in England don't have to wait any longer and can join the thousands of patients in the US and Europe who already have access to these important medicines today."
A Department of Health and Social Care spokesman said: "Cystic fibrosis is a life-limiting condition and it is absolutely right that patients should have access to cost-effective, innovative medicines and technologies on the NHS at a price which we can afford.
"However Nice has ruled that the current price offered by the manufacturer of Orkambi is unsustainable and we are calling for a speedy solution to be found between NHS England and Vertex."