Addresses in the Midlands were being searched as police investigate a man who crashed a car outside the Houses of Parliament in a suspected terror attack.
The 29-year-old UK national remains in police custody after his arrest on suspicion of preparing an act of terror.
The silver Ford Fiesta was driven from Birmingham to London late on Monday, spent almost five hours in the Tottenham Court Road area and was then driven around the Westminster area for more than 90 minutes, before it crashed into a security barrier just before 7.40am on Tuesday.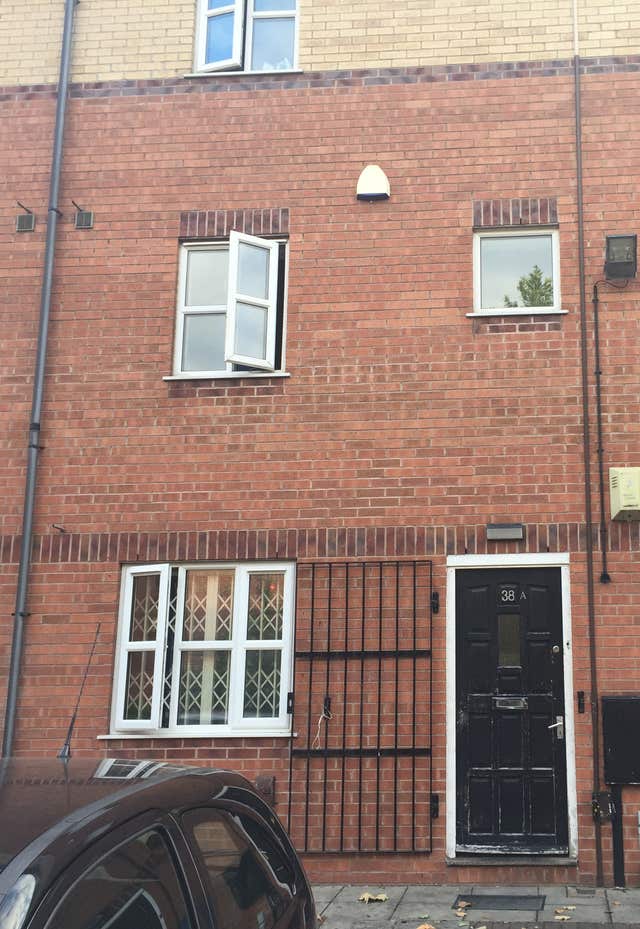 Plain-clothed police officers could be seen outside an address in Peveril Street in Nottingham on Tuesday evening, which was said by neighbours to be home to six Sudanese people.
There was also a police presence near the Bunna Internet Cafe on Stratford Road in Sparkbrook, Birmingham, but it was not confirmed whether that was in relation to the Westminster probe.
Birmingham Hall Green MP Roger Godsiff said it is believed the suspect had been living in his constituency.
The Labour politician tweeted: "I have told the police and security services that they have my total support in doing whatever is necessary to protect the public in London and Birmingham."
The suspect, who was said to not be co-operating with officers, was not known to security services, Metropolitan Police counter-terrorism head Neil Basu said.
He said the apparent deliberate nature of the act, the method used and the "iconic" location of Parliament led the force to treat it as a terrorist incident.
Footage aired on BBC News showed the car's approach towards Parliament, where it crossed into oncoming traffic and collided with cyclists before entering a small road and crashing into a security barrier.
Three people sustained non-life-threatening injuries. One man was treated at the scene while another man and woman were taken to hospital but both were discharged by Tuesday evening.
Images posted online showed a man wearing a black puffer jacket being led away in handcuffs from the car as armed police officers swarmed the scene.
There was nobody else in the vehicle and no weapons were found, police said.
Mr Basu added no other suspects have been identified and there is "no intelligence at this time of further danger" to Londoners.
The car was removed from the scene late on Tuesday night.
After a meeting of the Government's emergency Cobra committee, Theresa May urged the country to come together and carry on as normal.
In a statement the Prime Minister, who is on holiday, praised the "formidable courage" and professionalism of the emergency services who "ran towards" danger.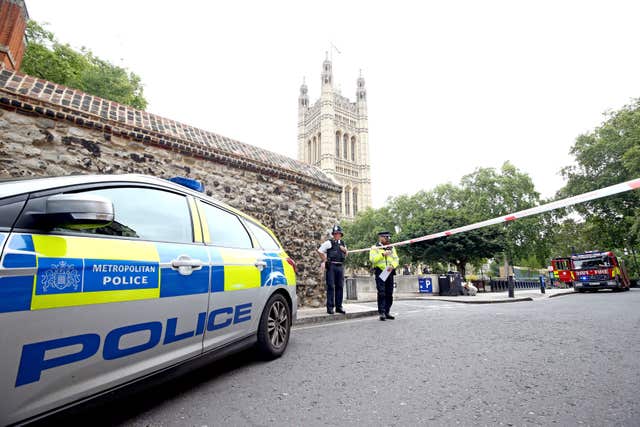 Referring to the suspected act of terrorism, US President Donald Trump said on Twitter: "These animals are crazy and must be dealt with through toughness and strength!"
Witnesses described an emotionless driver ploughing through cyclists in what appeared to be a deliberate act.
Kirsty Moseley, of Brixton, south London, was a passenger in the first car behind the cyclists, who "were thrown everywhere" after being struck at what she estimated was 25mph.
Ms Moseley, 31, added: "He (the driver) wasn't shouting anything, he wasn't screaming, he didn't look crazed or out of control – he was just deadpan."
Jason Williams, from Kennington, was walking to work when he saw the "deliberate" crash.
"It didn't look like an accident. How do you do that by accident? It was a loud bang," the 45-year-old told PA.
The Houses of Parliament are surrounded with security barriers of steel and concrete.
The measures were extended in the wake of the Westminster Bridge attack in March 2017 when Khalid Masood ploughed a car into crowds on Westminster Bridge, killing four people.
Masood abandoned his car then stabbed and killed unarmed Pc Keith Palmer before he was shot by armed police in a courtyard outside Parliament.
The terrorist threat against the UK is seen as unprecedented.
Some 13 Islamist plots and four by far-right extremists have been foiled in the past 18 months, he added.
There are roughly 3,000 active "subjects of interest" at any one time – while there is also a wider pool of more than 20,000 individuals who have previously featured in probes whose threat must be kept under review.