A terror suspect accused of deliberately crashing a car outside the Houses of Parliament was not known to police or MI5, Scotland Yard has said.
The man, in his late twenties, is being held in custody at a south London police station but is not co-operating with officers, counter-terrorism head Neil Basu said.
He was arrested on suspicion of terror offences after the silver Ford Fiesta he was driving collided with cyclists and pedestrians before crashing into security barriers just before 7.40am on Tuesday.
The suspect is understood to be from the Birmingham area.
"We have not formally identified him yet. On the details we have at the moment we don't believe this individual was known to MI5 or counter-terror police."
The silver car can be seen coming along the road next to Parliament Square before moving to turn right towards Westminster Abbey in footage of the incident aired on BBC News.
As an ambulance passes the car on its right-hand side, the vehicle swerves left, crossing oncoming traffic and a pavement before entering a small road and crashing into a security barrier.
Two white vehicles appear to be behind the car shortly before the crash but Mr Basu insisted: "There was not a police car in pursuit of the vehicle."
Images posted to social media showed a man wearing a black puffer jacket being led away in handcuffs from the car.
There was nobody else in the vehicle and no weapons were found, police said.
Mr Basu added no other suspects have been identified and there is "no intelligence at this time of further danger" to Londoners.
Two people were taken to hospital, while a third person with minor injuries was assessed at the scene, the London Ambulance Service (LAS) said.
One was discharged from St Thomas' Hospital before midday, while a woman is being treated for serious but not life-threatening injuries at St Mary's Hospital.
Prime Minister Theresa May said her thoughts were with those injured and thanked the emergency services for their "immediate and courageous" response.
A meeting of the Government's emergency cobra committee will be held at 2pm.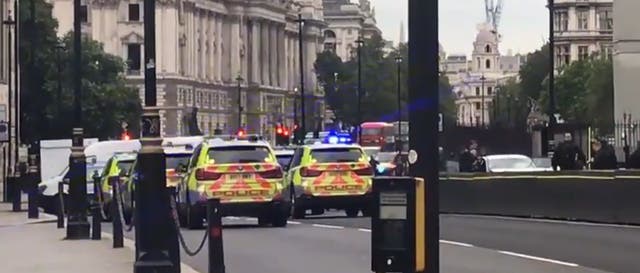 Geoffrey Woodman, a strategy consultant from Battersea, had stopped at the traffic lights by Parliament Square on his cycle to work when the car swerved into cyclists and towards the security barriers.
"I was getting off the bike and put my foot down, then there was a sound like tyres screeching," he told the Press Association.
"This car turned round to the left and swerved into the wrong lane of traffic and into the bank where all the cyclists wait."
He said most people managed to jump off their bikes to safety but one woman who "seemed in some distress" was clipped by the bonnet of the car as it passed.
Mr Woodman said paramedics from a passing ambulance stopped to help before armed police arrived on the scene.
Cyclist James Maker, 30, of Chelmsford, Essex, passed the scene in Westminster minutes later and saw a woman injured on the ground and the car crashed into the barrier.
"I looked to the right-hand side and there was a cyclist on the floor, clearly injured," he told the Press Association.
"It was a woman, they were clearly quite injured, they weren't moving and they were in the recovery position."
Jason Williams, 45, from Kennington, was walking to work when he saw the crash.
"I saw a car going at high speed towards Parliament. It hit a bollard," he told the Press Association.
"It looked deliberate. It didn't look like an accident. How do you do that by accident? It was a loud bang."
Streets around Parliament Square, Millbank and Victoria Tower Gardens were cordoned off as police, ambulances and firefighters arrived.
Bus driver Victor Ogbomo, 49, passed the scene just after the crash.
"All I saw was the smoke coming out of a vehicle, a silver vehicle… I just stopped the bus," he said.
"The police said we have to move back, then in less than five minutes the response team came."
The Houses of Parliament are surrounded with security barriers of steel and concrete.
The measures were extended in the wake of the Westminster Bridge attack in March 2017 when Khalid Masood ploughed a car into crowds on Westminster Bridge, killing four people.
The terrorist threat against the UK is seen as unprecedented.
In addition to five attacks that occurred last year, authorities say they have stopped 13 Islamist and four extreme right-wing plots since the Westminster atrocity in March 2017.
Police and MI5 are running at least 500 live operations involving roughly 3,000 active "subjects of interest" at any one time – while there is also a wider pool of more than 20,000 individuals who have previously featured in probes whose threat must be kept under review.
Earlier this year, the Government unveiled a refreshed counter-terror strategy.
Under the blueprint, MI5 intelligence will be shared with bodies outside the security community in an attempt to stop suspects before attack plots can crystallise, while anti-terror laws are to be strengthened to allow earlier interventions.