Salih Khater has been named as the man arrested after a car was driven into cyclists and crashed into security barriers outside the Houses of Parliament.
The 29-year-old, who is a British citizen of Sudanese origin, is currently being held by police on suspicion of preparing an act of terror.
He is said not to be co-operating with officers and was not known to security services.
But what else do we know about him?
Residents who knew Khater described him as a quiet man who frequently visited a shisha lounge and internet cafe in Stratford Road in the city.
Ahmed Abdi, who is originally from Somalia, said Khater was regularly at the Bunna internet cafe, and was a "very quiet" man who "never spoke" and drove a small white, old car.
The 43-year-old, who recognised Khater's image on the news, said he knew the man as Salih and had done so for around a year-and-a-half.
Coventry University has also confirmed that, between September last year and May 2018, Khater studied accountancy but is no longer enrolled at the educational establishment.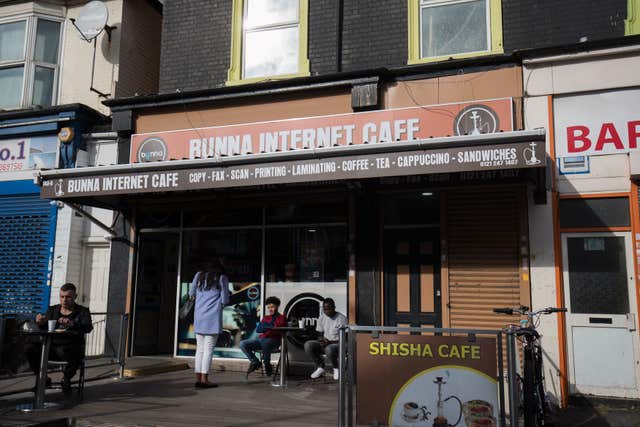 He has shared music videos from artists including French-Canadian singer Celine Dion, as well as Eminem's Love The Way You Lie featuring Rihanna.
He has also posted images of himself using a laptop on a train and one of him on a mobile phone, as well as desert scenes, and one of Nelson Mandela.
Likes on the page include Fort Wayne Indiana, London Metropolitan University, I Am Sudanese and the sport of basketball, with status updates in both English and Arabic.
As well as listing his favourite quote as "love is only force capable of transforming an enemy into friend" (sic), he also states he is interested in both men and women.
In April he liked a blog post about how a Birmingham school is giving students the skills to deal with and protect themselves from extremism and radicalisation.
Scotland Yard said the silver Ford Fiesta used in the Westminster attack was driven from Birmingham to London late on Monday and spent almost five hours in the Tottenham Court Road area.
It was then driven around the Westminster area for more than 90 minutes before it crashed into a security barrier just before 7.40am on Tuesday.
The Metropolitan Police said they are still working to clarify the movements of the suspect during the period of time he spent in the Tottenham Court Road area.
Unable to confirm if he had been driving around, parked or had been on foot, officers have appealed for members of the public to come forward with any information.