More students took A-level Chinese than German this year, sparking concern that the European language is heading for extinction.
There were 3,058 entries for A-level German – down 16.5% on 2017, according to data released by the Joint Council for Qualifications (JCQ).
There were 276 more entries for Chinese, with 3,334 taking the subject overall – up 8.6% on 2017.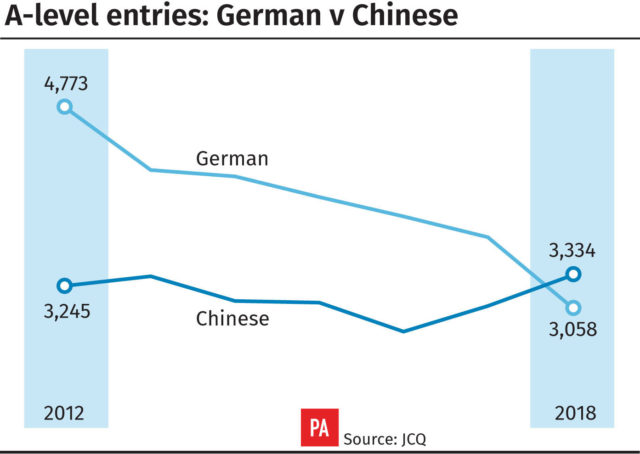 School leaders raised concern the subject is becoming unsustainable.
Suzanne O'Farrell, curriculum and assessment specialist at the Association of School and College Leaders (ASCL), said: "We're seeing German just moving into extinction really. It is in severe decline in schools, it's really worrying.
"It's declining faster in the state system than it is in the independent system, but it's just not sustainable in schools.
"It always was a second normally to French and the numbers to run a group, even if you collaborate with other schools, are just not sustainable."
The latest figures also show drops in entries for other languages.
French remains the most popular language with 8,713 entries, although this is down by 8% this year.
Spanish, which has seen a boost in recent years, also saw a fall in 2018, with entries down 4% to 8,255.
Mark Herbert, director of schools and skills at the British Council, said: "With the UK forging new relationships around the world, it's never been more important for our young people to develop the knowledge and skills they need to live and work in a global economy.
"The new A-level syllabus has the potential to produce more competent linguists, but the continued decline in pupils taking a modern language A-level in the first place is still a real concern. Student perceptions that languages are more difficult and less important than other subjects need to be tackled.
"Against this overall downward trend, the increasing popularity of Chinese proves that our young people can be enthused to study languages. Our research shows that Mandarin will be one of the most important languages for the UK's future prosperity and global standing – but we mustn't neglect Spanish, French and German, which will still be vital post-Brexit.
"Learning a foreign language doesn't just boost job prospects by providing vital skills that employers are looking for, it also helps us understand other cultures and work internationally.
"We all need to encourage our young people to see the value of languages and embrace them as important subjects to study at A-level and beyond."