There has been a fall in the number of students accepted on degree courses at UK universities, early figures show.
In total, 411,860 students – from the UK and overseas – have taken up places, down 1% compared with the same point last year, according to initial data published by admissions service Ucas.
A breakdown shows 353,960 UK students have been accepted on to undergraduate courses, down 2% on 2017.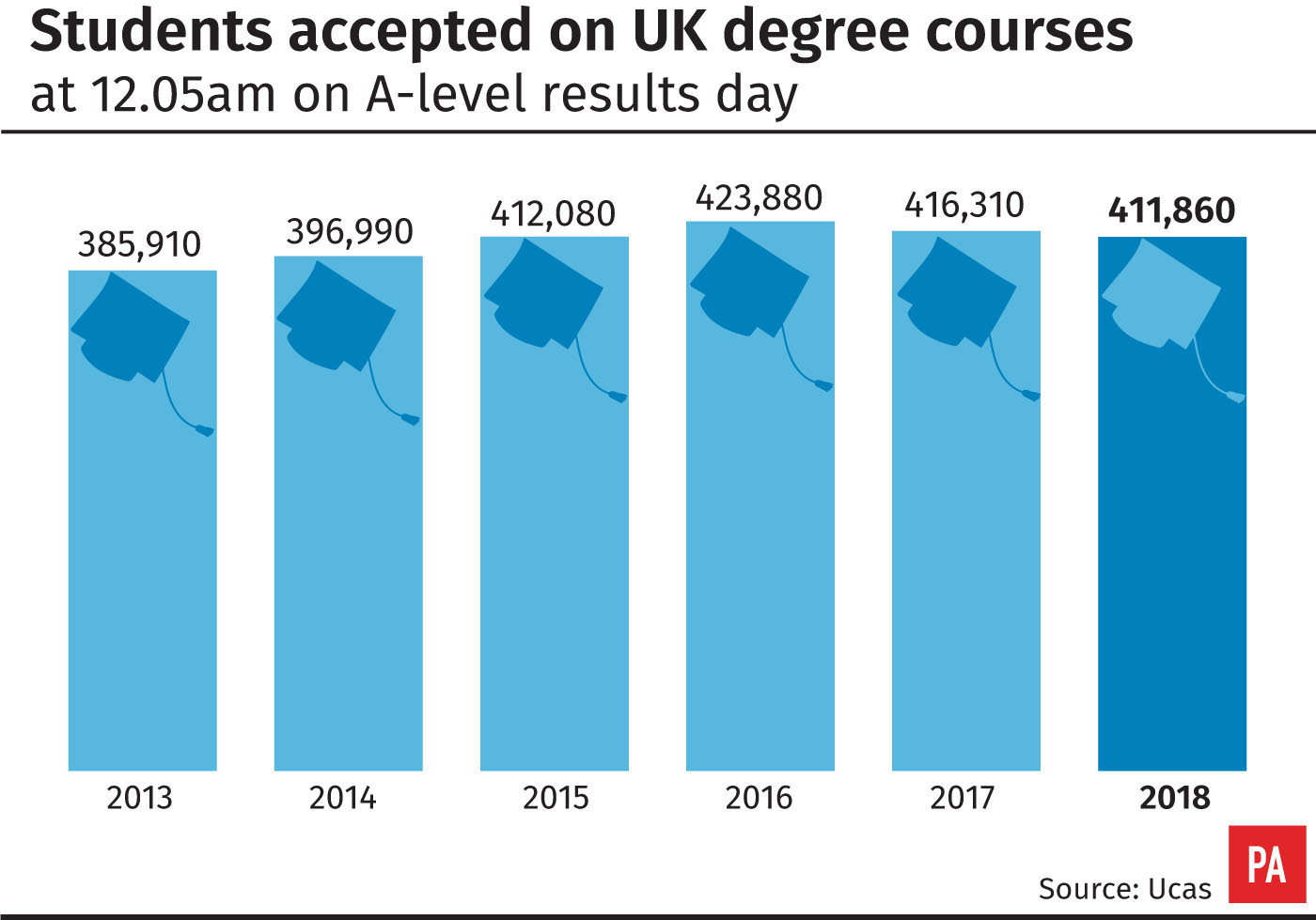 A record 31,510 students from nations outside the EU have taken up places – a 4% increase.The figures are a snapshot taken by Ucas shortly after midnight.
The admissions service said that in England, a record 27.9% of the 18-year-old population has been accepted on to courses, with a record 26.3% in Wales.
In Northern Ireland, the entry rate is 28.1%, while in Scotland – where results were published last week – 25.9% of 18-year-olds have been accepted.
Clare Marchant, Ucas chief executive, said an increase in the proportion of youngsters from disadvantaged background was "excellent news".
Some 16.1% of those from the most disadvantaged backgrounds have been accepted – up 0.4 percentage points.
She added: "However, the continuing  gap between the most and least advantaged is frustrating, and we'll keep on working with universities to help them evaluate their outreach activities to impact the most disadvantaged students.
"The encouraging growth in international students choosing to study in the UK is testament to the welcome of our world-class universities.
"I'd advise anyone thinking about securing a place through clearing to take some time to visit universities and colleges in the next few days. This weekend's open days are listed on the Ucas website. Seeing everything in person can help you make the right decision.
"If you decide your next step isn't a degree though, information on apprenticeships, gap years and career options is also available on ucas.com."