Hundreds of campaigners have attended a rally in Scotland as they stepped up demands for a public vote on the final Brexit deal.
Backers of the so-called people's vote gathered in Edinburgh's Festival Square to call for the Government's eventual deal on exiting the European Union to be put before the country.
The event was organised by The People's Vote campaign, which argues that the Brexit process is a "mess".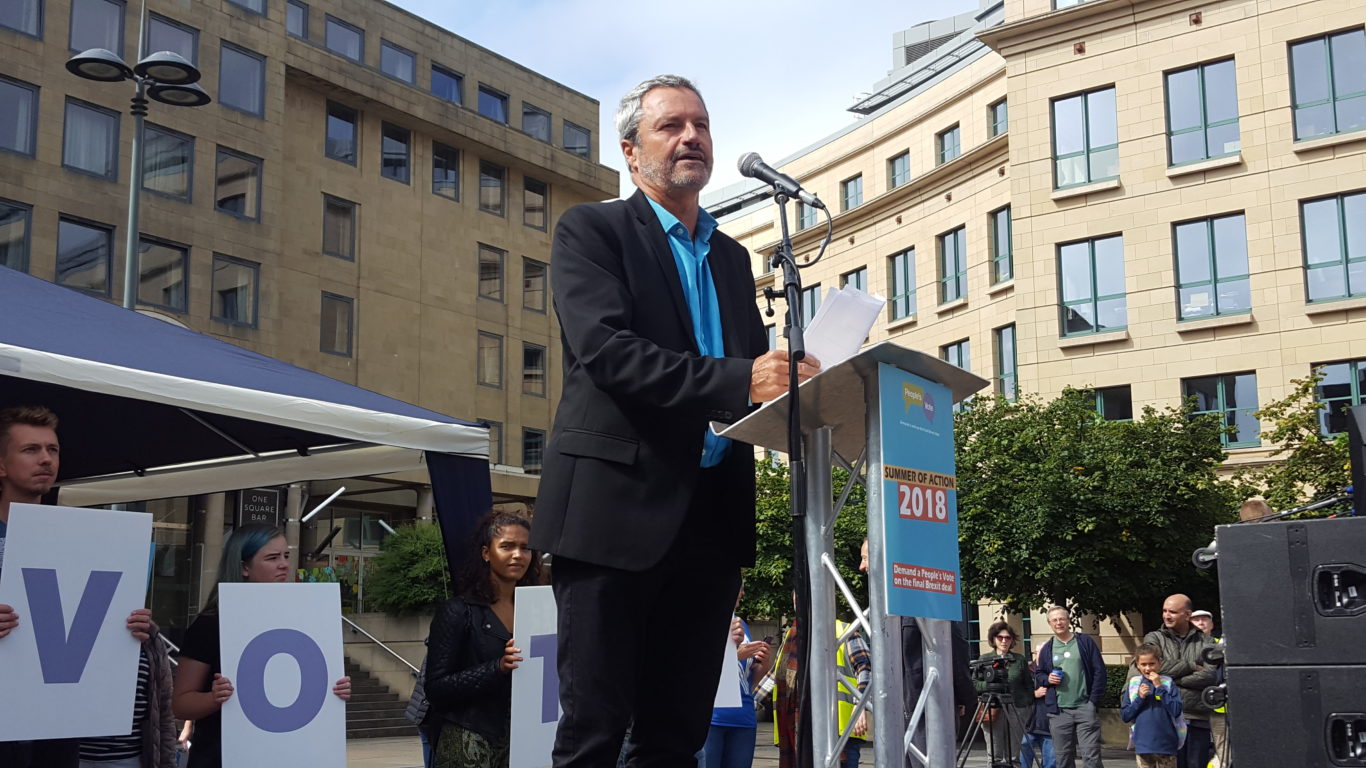 Former BBC journalist Mr Esler told the crowd: "Truth decay is a rottenness which is undermining our democracy. It has many sources, but one stands out – the Brexit bunch.
"Like most people in this country, whatever we thought of the vote, I accepted it at first – that's how democracy works.
"But I've change my mind completely over the last two years of lies and incompetence."
He went on: "The Brexit bunch are the most incompetent bunch of politicians in my lifetime and Brexit is in deep trouble, not because of those of us who thought it was a bad idea, but because those who told us it was a good idea are so incompetent, they don't know what it is."
He added: "We can argue against lies and cheating, we can argue for real democracy, we can argue for a truly fair and free and informed vote.
"We can continue to expose the hypocrisy of the Brexit bunch, we can argue for a people's vote."
Those attending the rally waved flags and held banners with slogans such as "Whose deal is it? Let the people choose" and "We demand a people's vote on the Brexit deal".
Organisers claimed the event, which was addressed by a number of speakers, was attended by around 1,000 people.
Vanessa Glynn, chair of the European Movement in Scotland, told the crowd: "There is no good Brexit. There is rightly wide-spread pessimism about the impact of Brexit on Scottish jobs, businesses, farmers and public services.
"Scots believe that Brexit will make our nation's economy weaker, Scotland's NHS worse and our own families significantly poorer … Let's stop talking about Brexit and start talking about what we want for our future."
Mary Ross-Davie, director of the Royal College of Midwives in Scotland, said the organisation supports the People's Vote campaign.
"We're already 3,500 midwives short across the UK and if we lose our hard-working, fantastic midwife colleagues from the EU, it will be a disaster," she told supporters.
She argued that the decision on the final Brexit deal must not rest with a few hundred politicians in Westminster.
"It has to be a decision taken by the tens of millions of us, right across Scotland, England, Wales and Northern Ireland, whose lives will be changed forever by it," she said.
"It is far too big a decision to be left to the politicians alone. We, the people, must decide in a people's vote on the final Brexit deal."