Britain may have to rethink the decision to leave the European Union if the Government is unable to strike a Brexit deal with Brussels, a former head of the Civil Service has warned.
Lord Kerslake said the consequences of a "no-deal" break would be so serious, Parliament would have consider whether it could allow it to go ahead.
The peer, who has advised Labour on preparing for government, said that at the least there would have to be a "pause" in the Article 50 process under which the UK is set to leave the bloc on March 29 next year.
In those circumstances, he said, the European Commission would almost certainly insist on some "re-examination" of the original 2016 referendum decision to leave.
His comments came as the Government prepares to publish a series of technical notes on preparations for a no-deal Brexit across dozens of areas of British life, from farming to financial services.
Lord Kerslake said the measures were "too little, too late" and that the Government had not allowed itself enough time to prepare for such an outcome.
He told the the BBC Radio 4 Today programme: "The consequences of a no deal would be so serious as I think Parliament would have to seriously consider whether it could contemplate this.
"The question people need ask themselves is: is this a risk that they think we should be taking? 
"If the Government can negotiate a good deal, then so be it. But if they can't and we end up in this position, then we have to reopen the question of whether we go forward with Brexit at all. It is not too late to do that.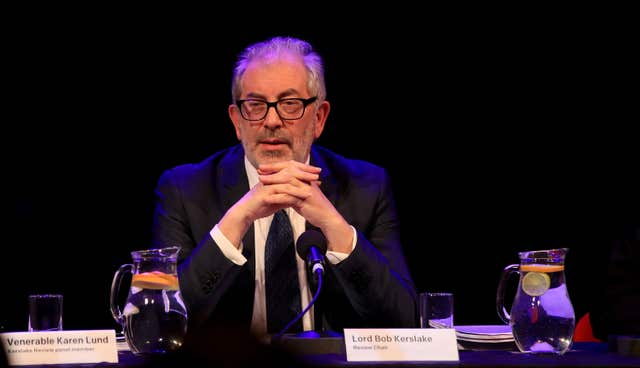 "But I think that pause would need to include – and I suspect this would be insisted on by the (European) Commission – some re-examination of the decision itself."
The co-chairman of the pro-Brexit Leave Means Leave campaign group, Richard Tice, said Lord Kerslake's intervention was intended to "soften people up" for a delay to Britain's withdrawal.
"That would be absolutely appalling. People up and down the country would be furious that our civil servants and Government have deliberately ignored the will of he people," he told the Today programme.
"What we have just heard from Lord Kerslake is part of the deliberate negativity from the Civil Service who are looking to soften people up in order to extend Article 50. It is completely unacceptable."
Writing in the Daily Telegraph, the former Ukip leader said: "It is now beyond doubt that the political class in Westminster and many of their media allies do not accept the EU referendum result.
"It is equally clear to me that, unless challenged, these anti-democrats will succeed in frustrating the result."