A new memorial has been unveiled during a 30th anniversary service for eight soldiers killed in the Ballygawley bus bombing in Northern Ireland.
Poppy wreaths were laid by survivors and relatives of the dead while the British Legion provided standard bearers and a sense of military ceremony and a lone piper played.
Another 28 were injured after the IRA set off a roadside 200-pound Semtex bomb as the bus was travelling between Ballygawley and Omagh in Co Tyrone.
Police Service of Northern Ireland (PSNI) constable Noel Barton, 55, recalled: "The sky just lit up. We would have been seven, eight, nine miles from the scene itself."
Members of the Omagh Protestant Boys Band returning from a parade were among the first at the scene and tried to resuscitate soldiers who were "stretched out and lying on the road", Mr Barton added.
The officer, who joined the Royal Ulster Constabulary (RUC) because he wanted to help people, recalled: "There was one soldier at the bottom of a pole, he was wrapped around it and he was obviously dead, bad head wound, but there was nothing you could do.
"You always think, did I do enough, blame yourself for maybe not doing enough, but yes, it is something that you do think of every time you come through here.
"It means a lot to come here."
The Light Infantry Regiment soldiers, from England, were returning to a base near Omagh after a short holiday.
During Sunday's service Susan Greener, whose brother Richard Greener was among those killed, laid a poppy wreath on behalf of the Regiment.
Private James Leatherbarrow from Liverpool was one of the survivors.
He said: "You do a job and you wear the Queen's uniform over here and you are a target but we were in civvies, we were unarmed, and the cowards just, cowards, cowards.
"It has haunted me for 30 years because I suffer from post-traumatic stress disorder (PTSD)."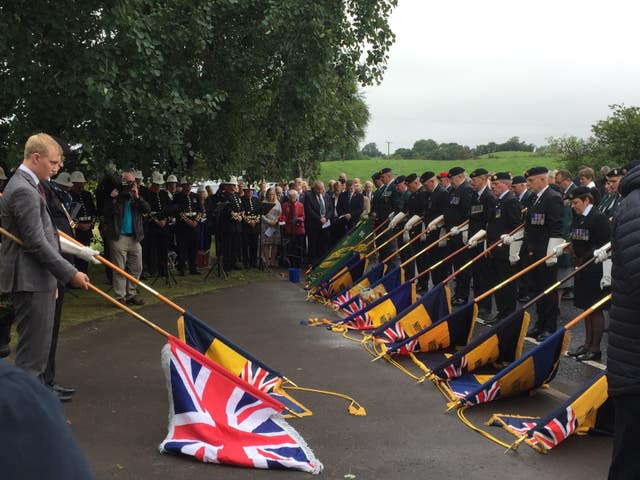 "If it was not for them a lot more people would have died that night."
He has had to pick himself up and get on with life.
"I have got three lovely kids and I think if it was not for them I don't think I would be here today.
"It is hard to believe that I am still here after 30 years because I tried to commit suicide twice through post-traumatic stress disorder.
His lasting memory of his youthful fallen comrades was in the airport having a laugh and getting drunk.
"Band of brothers we were – band of brothers."