The father of a British woman who spent 10 hours in the sea after plunging from a cruise liner has said he is "trying to get to the bottom" of what happened.
Passenger Kay Longstaff was pulled from the Adriatic Sea on Sunday morning, saying she had fallen from the back of the ship as it sailed 60 miles off the Croatian coast on Saturday on its way to Venice.
Her father, Ron Longstaff, told the Press Association he was still trying to establish what had happened.
Asked about whether his daughter had been going through a distressing period recently, Mr Longstaff told the Press Association: "That's rubbish. I was sitting in the sun with her a few weeks ago."
Speaking on the doorstep of his home in Kenilworth, Warwickshire, he added: "I'm watching the news and trying to get to the bottom of what happened."
She told Croatian news channel HRT: "I fell off the back of the Norwegian Star and I was in the water for 10 hours, so these wonderful guys rescued me."
Ms Longstaff added: "I am very lucky to be alive. I was sitting at the back of the deck."
She is reported to have told a rescuer that her fitness from yoga and singing helped her survive for so long in the water.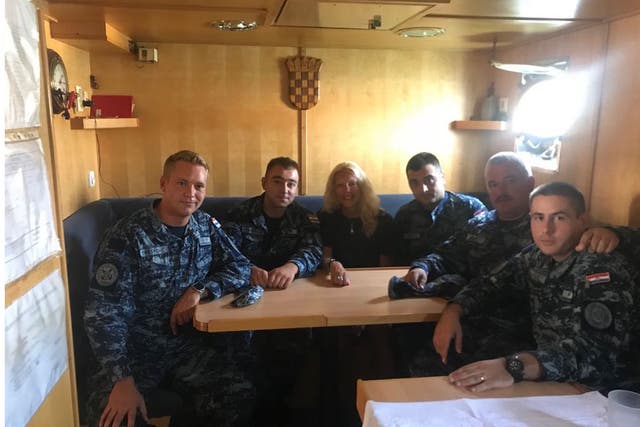 "Because they knew the time, they were able to know the exact position of the ship," he told The Sun.
Andy Harmer, the UK and Ireland director of the Cruise Lines International Association, said cruise holidays were "one of the safest forms of travel".
He added: "There are no known cases of someone acting responsibly who has accidentally fallen over the railing of a cruise ship."
Lovro Oreskovic, captain of the Cavtat Coast Guard rescue ship, said they were "extremely happy for saving a human life".
The Croatian Coast Guard said the ship and an aircraft launched a search at around 6.30am local time on Sunday after Ms Longstaff fell just before midnight on Saturday.
The ship's crew spotted her in the sea at around 9.40am and one of the crew dived in the sea to haul her out and take her to hospital.
She was found around a mile from where she fell.
Norwegian Cruise Line said the ship had been delayed amid the search and rescue operation.
A spokeswoman said: "We are very happy that the individual, who is a UK resident, is now safe and will soon be reunited with friends and family."