A man has been given a suspended jail sentence after he was caught with a knuckle duster made on a 3D printer.
Adrian Grey, 40, claimed the weapon was a toy after police found him concealing it in his coat pocket.
The white plastic knuckle duster was allegedly made by Grey's friend using a 3D printing machine, which is itself prohibited in the UK.
But it was Grey who was charged by police with having an offensive weapon, despite saying he was only using the knuckle duster as a reference for a tattoo.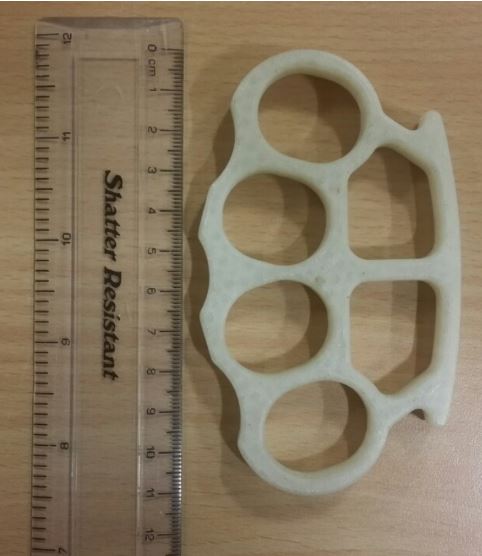 Grey admitted possession of a controlled drug, but was set for a trial at Merthyr Crown Court on the weapons charge until he pleaded guilty on its first day.
Grey, from St Michael Street, Brecon, Powys, was given a three-month prison sentence, suspended for 12 months.
He was also ordered to carry out 100 hours of unpaid work and to pay £250 in costs.
After his sentencing Alex Scott, CPS senior crown prosecutor, said: "This was an unusual case. Adrian Grey claimed this 3D-printed knuckle duster was just a toy because it was plastic.
"The CPS presented evidence to the court, including the weapon itself, and showed it could cause serious harm if used maliciously.
"This conviction demonstrates offensive weapons now come in many forms."