A profoundly deaf student who got a clean sweep of top grades in her GCSEs said her impairment pushed her to work harder and she refused to let it define her.
Lily Olliver sees herself as just an "ordinary girl who happens to be deaf".
The 16-year-old, of Hove, achieved 10 9s and the top mark of an A hat – the equivalent of an A** – in further maths.
Last year her sister Jessica, who is also deaf, gained eight A*s at GCSE as well as two As and a B, a 7 and a 6 at the school.
Lily, who sits on the youth advisory board for the National Deaf Children's Society, said: "I'm in shock, I'm really pleased. It's a relief.
"I was really worried about religious studies and additional maths.
"I don't think being deaf should stop you in anything you feel you want to do.
"I don't want it to define me.
"If anything it caused me to work a bit harder and fight a bit more."
She plans to return to Brighton College for A-levels and is hoping to study a combination of chemistry, biology, maths, further maths and philosophy but is still deciding exactly which subjects to pick.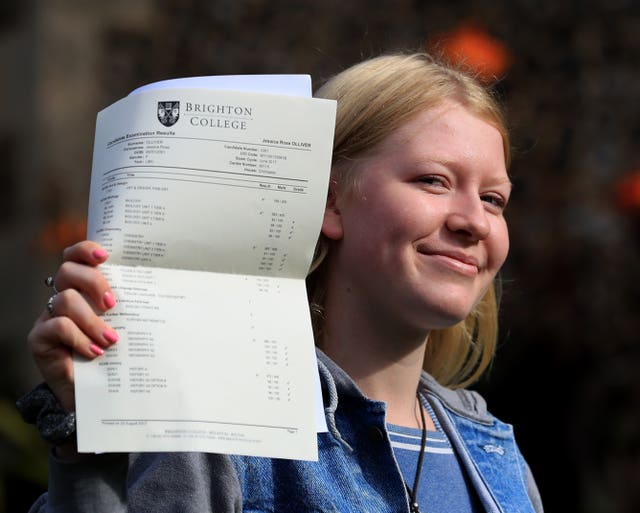 Her parents Pam and Andy Olliver said they were so proud of their "little girl".
A tearful Mrs Olliver added: "Lilly is profoundly deaf but she is pretty steely.
"She did really well and had to work very hard.
"What she's keen to say is she's just an ordinary person who happens to be deaf. It's how we raised them."
Rosie Eggleston, who works with Lily on the youth advisory board at the National Deaf Children's Society, said: "We couldn't be more thrilled for Lily. She's an absolute star, and is showing so clearly that with the right support there is absolutely nothing that deaf children can't achieve."
Teen chess genius Dominic Miller, of Littlehampton, West Sussex, who secured a place at the school aged 13 when he won its first ever chess scholarship, achieved nine 9s, A*s in German and computing and an A hat in further maths.
He won the backing of one of the UK's best chess players, grandmaster Nigel Short, to take his place at the school and has hopes of becoming a grandmaster himself.
Out of the 732 students across the country who received seven grade 9s or above, 34 studied at Brighton College, the school said.
There were 10 students who achieved at least nine 9s at the school with one getting the highest he possibly could in all exams – eight nines, an A hat and two A*s.
Some 89.6% of all grades were the highest – 7,8 and 9 or the equivalent in the existing marking pattern – taking into account all exams sat under the new grading system and the existing structure, the school said.
It added that 90.9% of girls and 88.8% of boys achieved grade 7 or higher.