Consumers face a multimillion-pound hit if there is a no-deal Brexit because of a "likely increase" in the cost of card payments between the UK and the EU, technical papers released by the Government reveal.
Cross-border payments would no longer be covered by a "surcharging ban" that prevents businesses adding an extra levy when people use a specific payment method.
The ban prevents businesses from charging customers for paying by the likes of PayPal or debit or credit cards, which Treasury earlier this year characterised as "rip-off fees".
The warnings are contained in 24 technical papers released on Thursday covering preparations consumers and businesses should take in case the UK and EU cannot agree a deal before Britain leaves the trade bloc in March.
The Treasury had said that the card charges, which were banned in January, cost Britons £166 million in 2015.
Brexit Secretary Dominic Raab reiterated the Government's conviction that it can and will agree a deal with the EU.
But he told reporters on Thursday that plans were being made to recruit an extra 9,000 staff into the civil service to deal with Brexit, in addition to 7,000 currently working on preparations.
A further 1,000 more Border Force staff are to be recruited, more than triple the additional 300 previously planned for.
Mr Raab dismissed "misinformation" about what may happen in the event no deal is reached by March, saying his stress levels were "fine".
Claims by Amazon's UK boss that there could be civil unrest within weeks of a no-deal Brexit are "not credible", he added, saying: "There's no suggestion of bringing [in] the military."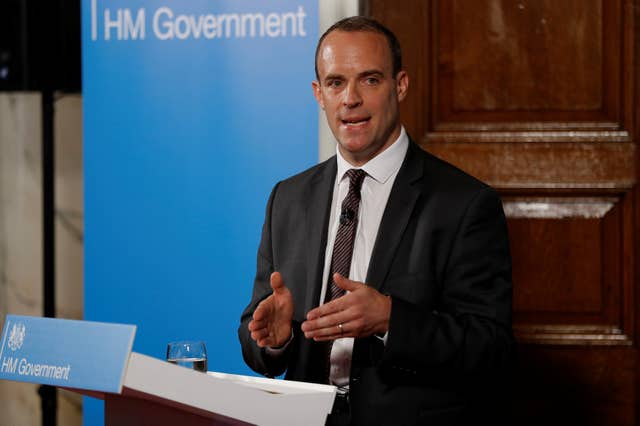 Shadow Brexit secretary Sir Keir Starmer said Mr Raab's speech was "thin on detail, thin on substance and provided no answers to how ministers intend to mitigate the serious consequences of leaving the EU without an agreement".
He added: "We are eight weeks out from the deadline for reaching an agreement. Ministers should be getting on the job of negotiating a Brexit deal that works for Britain, not publishing vague documents that will convince no-one."
Lending and deposit services, insurance and annuities – which people rely on for a regular pension income – are among the financial products which expats could struggle to access, it has been suggested.
Documents said that "in the absence of action from the EU, EEA-based customers of UK firms currently passporting into the EEA, including UK citizens living in the EEA, may lose the ability to access existing lending and deposit services, insurance contracts [such as life insurance contracts and annuities] due to UK firms losing their rights to passport into the EEA".
Consumers would face another potential cost increase when shopping online, with parcels arriving in the UK no longer liable for Low Value Consignment Relief (LVCR) on VAT, the papers confirm.
For businesses, the papers include warnings of extra logistical and financial hurdles over VAT and customs arrangements.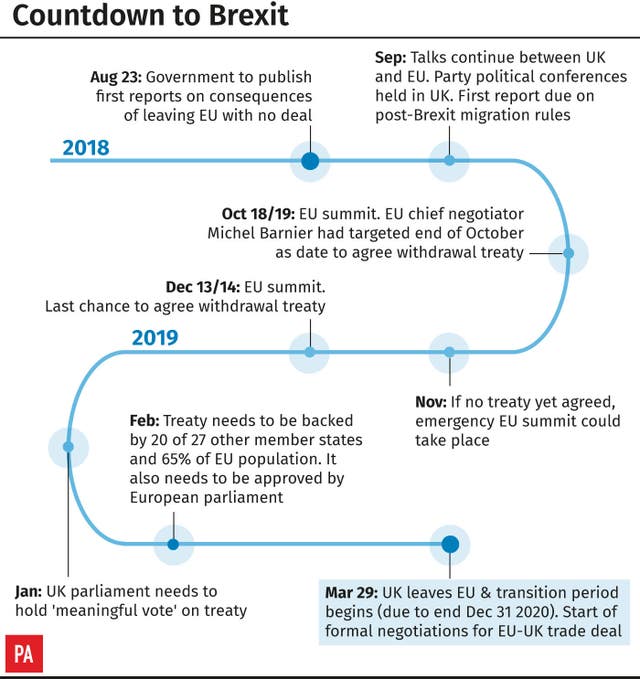 It says companies should "if necessary, put steps in place to renegotiate commercial terms to reflect any changes in customs and excise procedures, and any new tariffs that may apply to UK-EU terms".
It adds: "Businesses should consider whether it is appropriate for them to acquire software and/or engage a customs broker, freight forwarder or logistics provider to support them with these new requirements."
The Irish border, one of the most contentious issues in Brexit negotiations, is also mentioned – with firms trading across it told to "consider whether you will need advice from the Irish Government about preparations you need to make".
Importing nuclear materials from the EU may require a licence under a no-deal outcome, according to a paper outlining the impact on civil nuclear regulation.
Licences are not required under current arrangements, but the document warns that after March 29, 2019, "importers may need to obtain an import licence for imports of relevant nuclear materials from the EU".
New medicines will need UK approval before they can be made available to patients in the event of a no-deal Brexit.
The Medicines Healthcare Products Regulatory Agency (MHRA), which regulates drugs in the UK, will take on the functions of the EU if an agreement is not reached by March 29.
Products will have to go through national assessment before they receive market authorisation to be sold in the UK, according to the relevant technical paper.
Even health warnings on cigarette packets would change if there was no deal.
Copyright for the current hard-hitting images of lung damage and dead bodies is owned by the European Commission, so the UK could no longer legally use them and new images would need to be created.