The last time a pope visited Ireland was 1979.
More than 90% of people were Catholic, now it is down to less than 80%.
The Central Statistics Office (CSO) said a dramatic fall in the birth rate has been accompanied by an increase in the proportion of children born outside wedlock.
The marriage rate has dropped and more are opting for civil rather than church ceremonies.
More have taken advantage of education opportunities.
Living standards for some have soared, Dublin is among the most expensive cities in Europe due to price inflation in housing, but the problem of homelessness has worsened in recent years.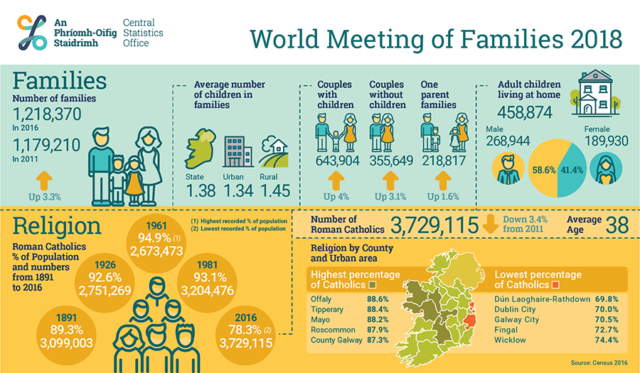 Those phenomena have continued apace, in common with much of Western Europe.
Maynooth College, where aspiring clerics study, was once one of the world's busiest and helped send Irish missionaries around the world to spread the faith.
The number studying for the priesthood has reduced substantially over recent decades, with the average age of a priest around 70.
Social values have also changed, demonstrated by a series of popular votes for liberalisation, which passed despite religious opposition.
In 1995 Ireland decided by referendum to allow divorce.
Subsequent history has disproved contemporaneous claims that it would lead to husbands deserting their wives in droves.
In recent years Ireland has had the lowest divorce rate in the EU, the union's statistics agency Eurostat said.
Homosexuality was illegal when Pope John Paul II visited.
It was decriminalised in 1993 and in 2015 Ireland became the world's first country to allow same-sex marriage through a referendum.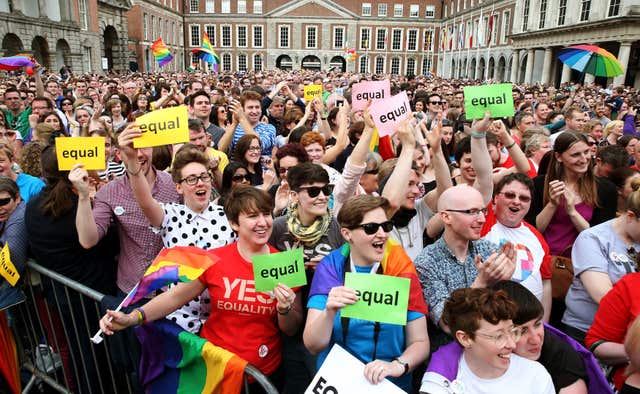 He went on to become Ireland's first openly gay leader and will meet the pope as head of Government.
The culmination of a "quiet revolution" which had been in the offing for some time, was how Mr Varadkar described a referendum vote earlier this year to legalise abortion.
It was a lurid and at times bitter campaign, featuring the display of graphic images of aborted babies by some concerned to preserve the sanctity of human life.
Advocates for change were catalysed by the death of Savita Halappanavar in Ireland, who lost her life during a miscarriage.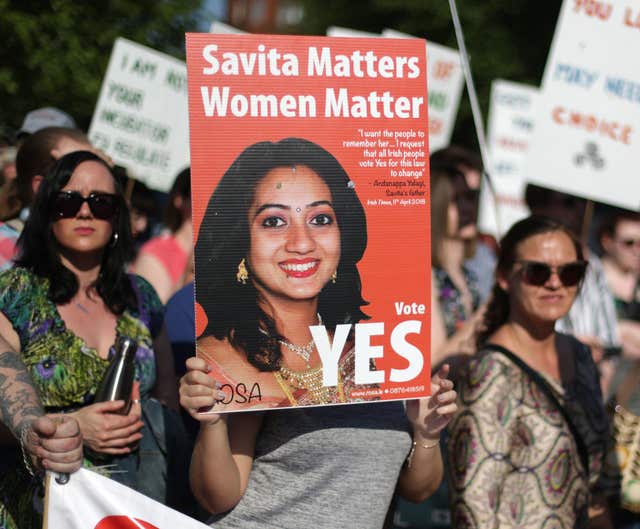 The Catholic Church itself has seen a dip in the number of new priests and mass-goers after being rocked by a series of abuse scandals.
This prompted the introduction of better safeguarding measures for young people after serious clerical criminality was uncovered by multiple investigations.
In 2009 the Ryan Commission on institutional child abuse found it was endemic in Catholic-run industrial schools and orphanages.
The inquiry covered a 60-year-period from 1936, taking submissions from 2,000 people who said they had suffered physical and sexual harm.
A follow-up investigation, the Cloyne report, prompted unprecedented criticism of the church by former Taoiseach Enda Kenny.
In 2011 he accused the Vatican of attempting to frustrate the Cloyne inquiry and said "dysfunction, disconnection, elitism and narcissism" dominated the culture of the Vatican to this day.
Ireland went on to temporarily close its embassy to the city state in a significant nadir in relations between once-close allies which both sides hope will be repaired by this weekend's visit.