More than 700,000 Rohingya refugees who survived months of monsoons in makeshift settlements in Bangladesh are now a potential "sitting target" for a cyclone, a charity has warned.
It is a year since more than half a million refugees fled Burma to neighbouring Bangladesh, gathering in the south of the country to form the biggest refugee camp in the world.
After months of heavy rain battering the flimsy shacks they now call home in Cox's Bazar, the Rohingya now face a cyclone season that could threaten their lives.
Julia Brothwell, programme manager for the British Red Cross, returned from Bangladesh a few weeks ago after three months she described as a "constant battle" repairing damage and warding off disease outbreaks.
She has been overseeing work to clear and repair latrines, decontaminate waste and promote good hygiene.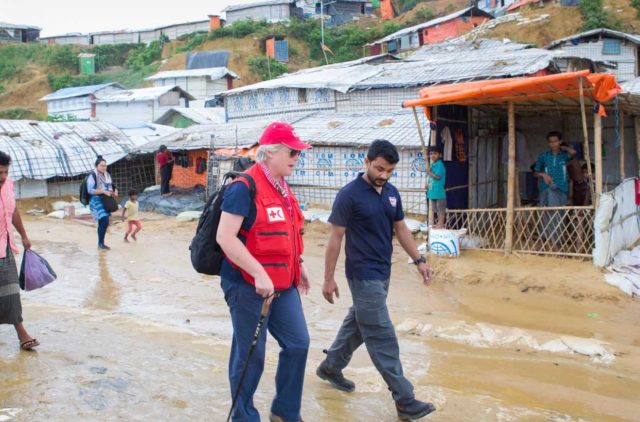 She said: "In Bangladesh, every cyclone season people may recognise that houses will be lost, land may be damaged, livestock may also be killed, but if you can get the people into a cyclone shelter … you can at least protect the lives and then help people recover by replacing their assets later.
"But if you have nowhere for the people to flee to that's safe, then we're also looking at the risk to lives, not just the loss of assets, and I think that's the most worrying thing – whether people in the mega camp are a sitting target essentially for a cyclone.
"Housing, yes, that can be replaced; people can be relocated. But you can't replace people."
Bangladesh sees two cyclone seasons each year – March to June and September to November.
The country has a national cyclone preparedness programme, with concrete structures such as schools and government buildings that can shelter people temporarily.
The storms have struck Cox's Bazar annually for the past three years, but for almost a million Rohingya they pose a "significantly different level of vulnerability", according to the humanitarian service ACAPS, which is part-funded by the UK Government.
However, ACAPS said there are no plans to evacuate the refugees and insufficient shelters to cover the host communities.
Ms Brothwell said: "Certainly we've been informed that the government would not really allow the refugees to leave the camp to seek safety in any shelters.
"So you've got 700,000 people living in the mega camp and their houses are built of bamboo and tarpaulin, and they're emergency houses not designed to be there long term or withstand any disastrous events, so (there is a) great concern about the safety of the population there."
Volunteers in the camps are being trained to sound the alarm if a cyclone is imminent and tell people what they might expect.
They will also act as first responders, carrying out limited search and rescue and first aid, as part of a programme between the Red Cross and Bangladeshi government.