Pope Francis was given a taste of a very different Ireland to the one his predecessor John Paul II got almost 40 years ago.
It included Irish dancing, classical music, children's choirs as well as testimonies given by families from across the globe.
In turn Ireland welcomed a different pontiff to 1979, with Pope Francis opening his address to the Festival of Families in Dublin by saying "Dia Daoibh" – Irish for good evening.
In a light-hearted moment during proceedings, Francis consented to a selfie with a teenager from the Travelling community.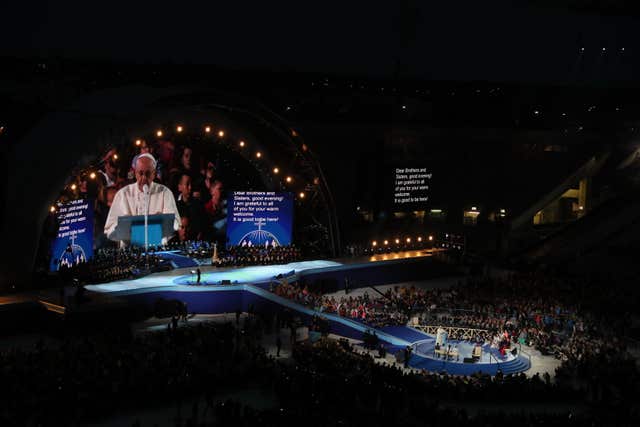 Pope Francis received an enthusiastic welcome as he arrived in the stadium and then did a lap of the pitch floor in a golf buggy, closely flanked by his security team.
Members of the audience rose to their feet, and some even stood on their chairs, for a better look as he passed giving smiles and waves.
When the Pope took his seat, Cardinal Kevin Farrell offered him the traditional Irish greeting of a thousand welcomes.
The pontiff smiled as a group of children performed an Irish dance in front of him, and he exchanged a few words with the youngsters before 500 other children from dance schools around Ireland treated him to a performance of Riverdance.
There were also powerful testimonies from a number of families, including Azeez Al-Kanah who recollected fleeing their home in Iraq after Islamic State invaded the village.
There were also strong words from Missy Collins of the Pavee Point Traveller group, who told the pontiff of the struggle of the Travellers for recognition and the value her community places on the importance of family.
During his address, Pope Francis paid tribute to all those who took part.
And as he neared the conclusion of the first day of his two-day visit to Ireland, during which he also met President Michael D Higgins and survivors of clerical abuse amid a packed itinerary, he admitted he was tired.