Pope Francis has arrived in Ireland to start his historic two-day visit.
The papal delegation travelled to Ireland with Italian airline Alitalia, landing in Dublin at 10.26am.
Irish and Vatican flags were flown from the front of the plane.
A red carpet was rolled out for the Pope's arrival as senior clerics and other dignitaries greeted him, including Archbishop of Armagh Eamon Martin and Archbishop of Dublin Diarmuid Martin.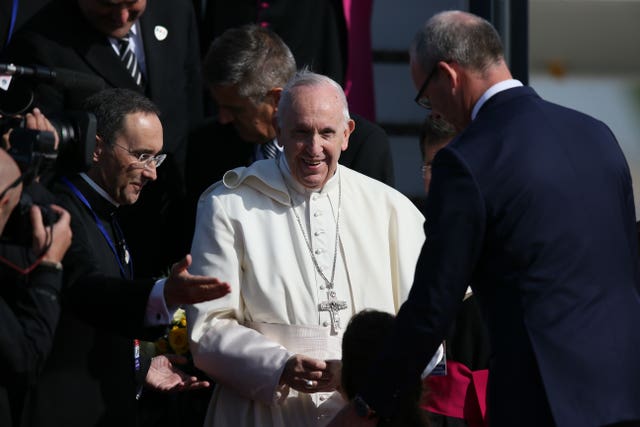 Seven-year-old Jessica presented the Pope with a bouquet of flowers, which included thistles, yellow and white roses, and green foliage.
Nine-year-old Beth greeted the Pope in Irish, Jessica welcomed him in Spanish and five-year-old Annalise spoke to him in English.
While Mr Coveney said it was a "huge privilege" for his family, he also addressed the issues surrounding clerical sex abuse that has been hanging over the papal visit.
He said: "I think it's been difficult for many people, for victims, for Catholics and many of the clergy.
"But I hope and expect that this weekend will be a very powerful moment.
"He has a personality that can reach out to Irish people. He's humble, he's direct.
"And I expect what he says and does will be powerful and will make a big impact. I hope it does.
"The church needs that and I expect him to show leadership and to challenge his church and to also challenge society as a whole and governments, as he has been doing, on climate change and on poverty."
Mr Coveney said the questions being asked of the Catholic Church about child sex abuse in the build-up to the Pope's arrival should be part of his visit.
He added that his daughters had been practising on Friday night for Francis's arrival.
"I think they only realised the scale of the occasion this morning. They said 'Welcome to Ireland your holiness' and he said he was very happy to be here.
"He was very gentle and kind, as you would expect.
"It's a huge privilege for us as a family.
"We wanted him to be met by a family. He is coming to World Meeting of Families and we thought that would be appropriate.
"Diarmuid Martin also suggested that.
"It was a very nice way to meet him."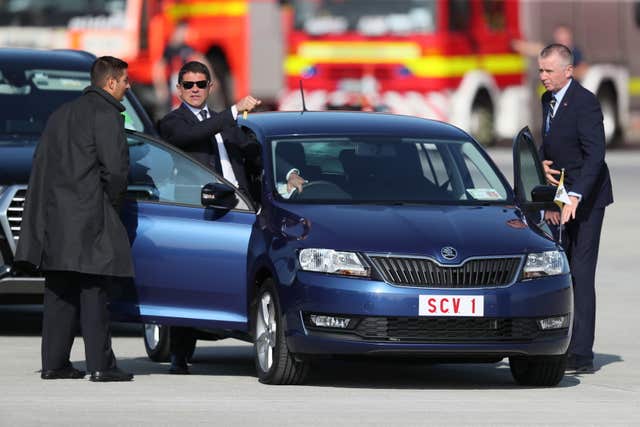 Jane Boland, 11, from Nenagh in Co Tipperary, won a nationwide competition with her design.
In return, the schoolgirl, who was with her parents, Ruari and Maura Boland, and her brothers, Daniel and Tom, was given some rosary beads by Francis.
"The rosary beads will be really special," she said.
"I said to him 'Welcome to Ireland,your holiness' and he said it was very nice of me to give him the vestment.
"I think he's really nice and I wasn't nervous."
Speaking about the design of the vestment, she said: "I put the world in the middle and it said 'Making the World a Better Place' and I put loads of things around it that represent life and how we are all different and unique in our own special way.
"He's just such a good man and the calling (for the design) just came into my head and I put it down on paper."
Others who were there to greet him included Mayor of Fingal Anthony Lavin, the Ambassador of Ireland to the Holy See Emma Madigan, Cardinal Kevin Jospeh Farrell and Cardinal Sean Brady, who is Archbishop Emeritus of Armagh.
The Skoda vehicle which took the Pope into the city from Dublin Airport carried a Vatican City registration plate – SCV1.