Severe downpours could not dampen the spirits of pilgrims who trekked from near and far to Dublin's Phoenix Park to see the Pope.
Tens of thousands of people made their way through Dublin's streets on Sunday morning ahead of the papal mass, the largest outdoor event taking place in Europe this year.
A total of 500,000 free tickets were issued for the religious event in the 700-hectare park.
It is the last event of Pope Francis' whirlwind 36-hour visit to Ireland.
The second day of the pontiff's historic visit to the country began early on Sunday with a pilgrimage to the National Marian Shrine in Knock, where local people reported an apparition of Our Lady in 1879.
In Dublin, Heuston Station was a hive of activity from early on Sunday morning with people who had heeded the Garda's advice to take public transport.
They were purchasing flags and trying to meet others before making the almost three-kilometre walk from the station to their seats.
The trek being made by most who wanted to see the event involved at least a six-kilometre round trip walk.
Prior to the event gardai had warned people to come prepared in the same way they would for a pilgrimage to Croagh Patrick in the west of Ireland.
Many also carried fold-up chairs so they could rest any potentially weary limbs later in the day.
Ann Dargan from Cappawhite, Co Tipperary and her friend Mary Holleren said the walk certainly was not going to deter them as they had walked the Camino de Santiago together.
"We're walkers, we've done the Camino together so walking is no problem," said Ms Dargan.
She said it was a pity, however, if it had led others not to attend.
They were not in Phoenix Park for the visit of Pope John Paul II almost 40 years ago so they were very excited this time around.
"It's a really lovely atmosphere," said Ms Holleren.
"Everyone is just laughing and joking and chatting," she added.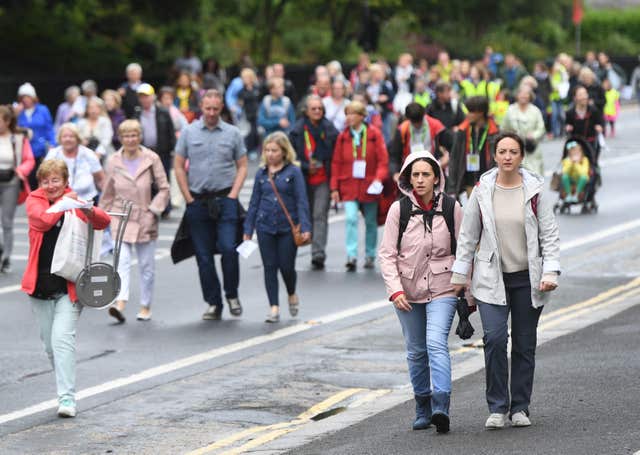 Mrs Smith said the train journey had been very quick and pain-free because there were no stops.
The family were not put off by the distance.
"I wanted to bring the kids to see the Pope," Mrs Smith said.
"It's a once-in-a-lifetime opportunity to see the Pope and get his blessing hopefully," she said.
Husband and wife Robin and Patricia Cronin from west Limerick also opted to take the train.
The early-morning start and journey involved in getting to the event did not deter them because they said they enjoy hikes and walks.
"We're farmers," said Mr Cronin.
His wife added: "We're used to getting up early."
The couple, who have been married for 37 years, said while they were content to walk, others might have felt it was too difficult to attend.
"The only problem I would have is that a lot of people were put off by the warnings, I think it should have been made easier for them to come here," Mrs Cronin said.