Notting Hill Carnival stages and music fell silent as thousands of people paid tribute to Grenfell Tower victims.
The party atmosphere and lively music came to a halt at 3pm as revellers marked 72 seconds of silence in memory of the 72 people who died following the fire in June last year.
The tower block is within half a mile of the parade route.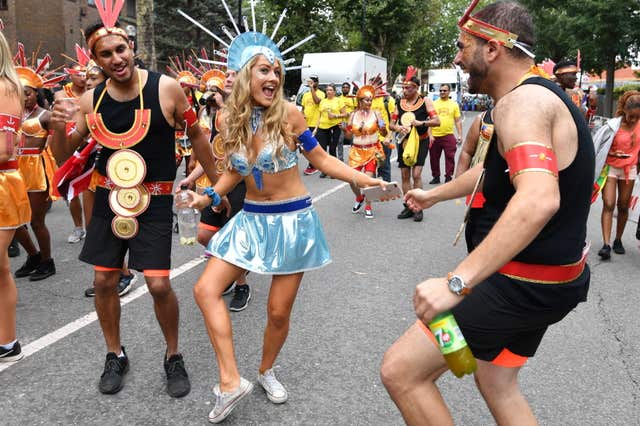 The silence was broken at the Rampage sound stage, just off Colville Square, with cheers, whistles and the booming voice of the late Aretha Franklin singing Respect.
Police made 133 arrests and recovered 16 knives at the event on Sunday, Scotland Yard said.
They detained 42 people on drugs offences, 20 on suspicion of possession of an offensive weapon and seven on public order offences.
Two were arrested on suspicion of sexual offences, three for common assault and 12 on suspicion of possessing psychoactive drugs.
Police were operating with enhanced stop-and-search powers in a bid to crack down on violence.
Scotland Yard said it would impose a Section 60 order across the carnival area between 9am and 11.59pm on Monday. The order allows officers to search people if they believe they may be carrying offensive weapons or in anticipation of violence.
On Monday the police presence was very visible, with officers wearing high-visibility vests stopping and searching men and women of all races as they walked along the pedestrianised streets.
But the police seemed in good spirits, stopping from time to time to high-five revellers, and acting as guides.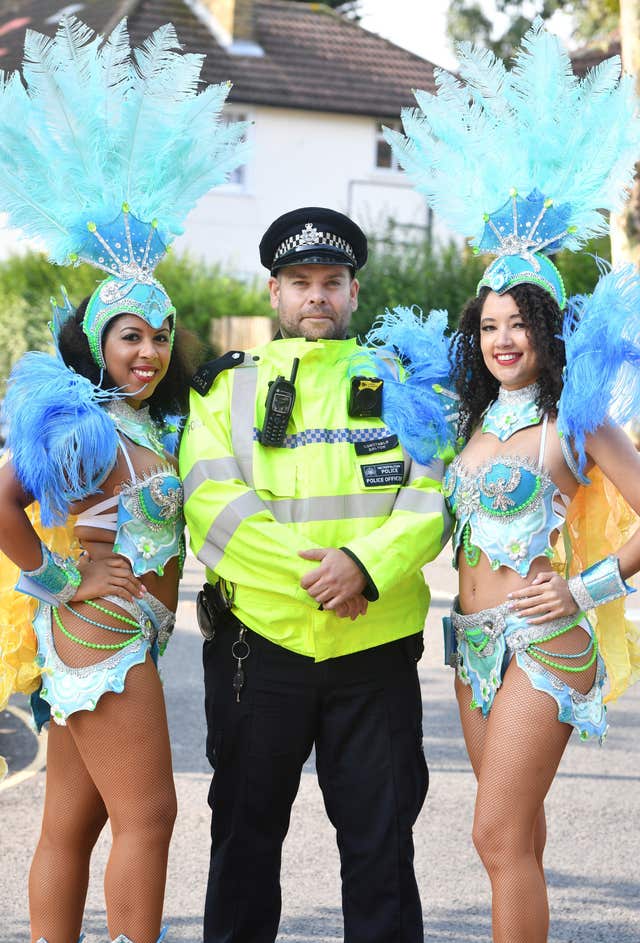 "I am confident that the Section 60 order imposed yesterday prevented these dangerous items being brought to carnival, and based on the intelligence at my disposal, I consider it proportionate and necessary to ensure a safe carnival today."
The bank holiday weekend event is being policed by the highest number of officers in six years.
Almost 7,000, some from the Metropolitan Police's newly formed Violent Crime Task Force, are policing Monday's event to "combat the threat of violent crime".
This is up from 6,100 at the less busy family day on Sunday.
Undercover police and officers from firearms and dog units are in place.
The event is expected to attract more than a million revellers to its floats, food stalls and music over the course of the two days.
After a wave of violent crime in the capital in recent months, Scotland Yard announced knife arches had been placed at "strategic points" along the route to help reassure people about their safety, though officials did not disclose where.
Police hope the "tried and tested" arches will put off those planning to arm themselves with knives and offensive weapons, but not everybody will be expected to pass through them.