Theresa May outlined Britain's first post-Brexit trade pact as she also committed the UK to providing an extra £4 billion of investment in African economies.
The Prime Minister said the Government intends to carry over the EU's economic partnership agreement with Mozambique and the Southern African Customs Union (SACU), which consists of South Africa, Botswana, Lesotho, Namibia and Swaziland.
She said an additional £4 billion of UK investment aimed to "pave the way" for at least another £4 billion from private sector financing, as part of the Government's ambition to overhaul the United States as the G7's top investor in Africa.
The UK is also to sign a new agreement to "repatriate huge sums of money that have been illegally removed from Kenya", allowing this to be returned to its "rightful owners" and invested in the country, Mrs May said.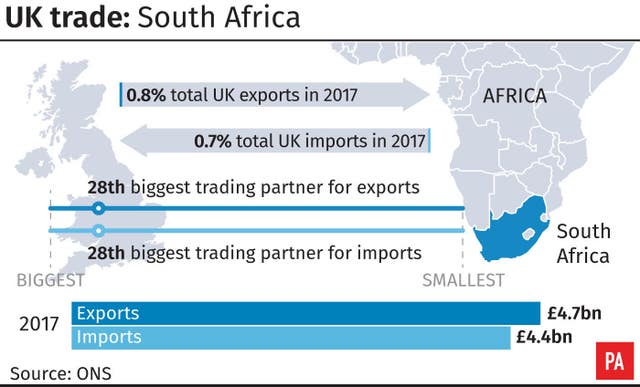 But she denied the UK has neglected Africa, pointing to visits by former foreign secretary Boris Johnson.
Downing Street believes helping young people in Africa secure jobs will stabilise the economy of their country while also reducing the likelihood of them undertaking risky journeys to Europe.
Speaking at the First National Bank in Cape Town, Mrs May said: "As Prime Minister of a trading nation whose success depends on global markets, I want to see strong African economies that British companies can do business with in a free and fair fashion.
"Whether through creating new customers for British exporters or opportunities for British investors, our integrated global economy means healthy African economies are good news for British people as well as African people.
"That's why I'm delighted that we will today confirm plans to carry over the European Union's Economic Partnership Agreement with the Southern African Customs Union and Mozambique once the EU's deal no longer applies to the UK."
Britain's overseas aid budget totalled £13.9 billion in 2017, an increase of £555 million in 2016 and in line with the legal commitment to invest 0.7% of national income in this area.
It has proven a controversial pledge among some Tory backbenchers, with successive international development secretaries vowing to use the cash to help develop trade against the backdrop of Brexit.
"This will ensure that our investment in aid benefits us all, and is fully aligned with our wider national security priorities."
The PM said a "crackdown on illicit finance and organised crime", with expertise deployed in financial centres around the world.
Future spending plans will see the Government set out its proposals in more detail, Mrs May said.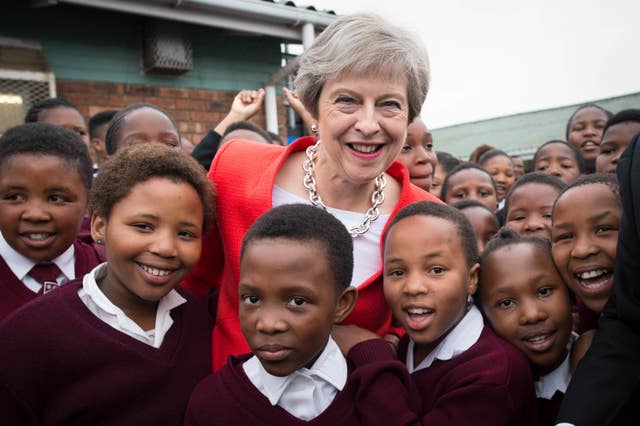 Asked if the UK has neglected Africa and come "late to the party" compared to other nations in working with the continent, Mrs May replied: "No.
"I think, just look at the number of visits the former foreign secretary made just last year as an example of that.
"We have been working with African nations and African governments in the past. What I'm talking about today is a new partnership for the future – recognising the challenges we both face."
Mrs May said she would discuss South African land reform with the country's president Cyril Ramaphosa, backing his calls of having "no smash and grab" change.
Business leaders and ministers, including the international trade department's George Hollingbery, are accompanying Mrs May on her trip.
Global Justice Now's Nick Dearden said: "The Prime Minister is today laying out a deeply regressive vision of aid which takes us back to the 1970s – a time when aid was not about creating a fairer world but about helping western countries to generate more business for their own corporations."