Theresa May flies to Nigeria on the latest leg of her whistle-stop Africa tour with trade, security and people trafficking on the agenda.
The Prime Minister will hold talks with president Muhammadu Buhari in the capital Abuja, with the threat of Boko Haram in west Africa expected to be raised during the trip.
She will then head to Lagos to meet survivors of modern slavery.
Mrs May arrives in Nigeria after making her pitch for the UK to help develop Africa, particularly in the post-Brexit world, alongside her plan for how overseas aid should work in Britain's interests.
She also announced Britain's first post-Brexit trade pact, with the Government intending to carry over the EU's economic partnership agreement with Mozambique and the Southern African Customs Union (Sacu), which consists of South Africa, Botswana, Lesotho, Namibia and Swaziland.
With Africa representing a small percentage of the UK's trade, more will have to emerge beyond an agreement with the southern African nations to satisfy Brexit critics who believe it will be difficult to replicate the advantages of EU membership.
A lighter moment in her first stop in South Africa saw Mrs May dance with schoolchildren before jokingly playing down her chances of appearing on Strictly Come Dancing.
Speaking ahead of her trip to Nigeria, Mrs May described modern slavery as "one of the greatest human rights abuses of our time" and labelled the UK a "world leader" in trying to end the crime.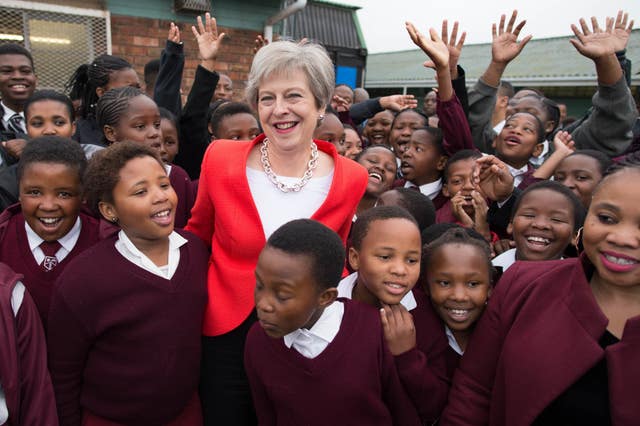 "And because this is an international problem which needs international response, we are also launching a new project with France to strengthen border cooperation to prevent trafficking along key migration routes towards Libya and Europe.
"But as well as targeting the smugglers and traffickers that cruelly exploit people for financial gain, it's vital that we support the victims who have suffered enormous trauma and are at high risk of being re-trafficked, and that is an important part of the support we are announcing today."
Mrs May's three-day trade mission ends in Kenya on Thursday.
She has been joined by junior ministers and business leaders.