Theresa May has arrived in Cape Town on the first leg of a three-country African trade mission. Here is what media and public figures in South Africa, Kenya and Nigeria are saying about the visit.
– South Africa
The Prime Minister arrived in South Africa amid a fierce debate over expropriation of land in the country.
South African President Cyril Ramaphosa said in July that the government will go ahead with changing the constitution to allow authorities to redistribute land.
The Citizen, a national tabloid based in Johannesburg, asked: "Will Cyril and Theresa get along?" The paper predicts "they May".
"While the governments of Australia and the United States have taken official positions on South Africa's land issues, the United Kingdom is likely to take a more diplomatic approach on the surface," the paper says.
Mrs May's trip is primarily billed as an opportunity to highlight opportunities for trade after Brexit.
As she touched down in Cape Town, The Agenda, a television news and current affairs programme, held a Twitter poll of viewers, asking them if they believed closer ties with Britain after Brexit would benefit Africa.
After several hundred votes were cast, the poll suggested a majority thought it would not.
– Nigeria
Next stop on Mrs May's trade tour is Nigeria – where German Chancellor Angela Merkel will also visit this week.
The Nation, a daily paper based in Lagos, highlights that the trip comes after French President Emmanuel Macron visited earlier this year.
Ahead of Mrs May's arrival, former vice president Atiku Abubakar, who is running for the leadership, said Brexit could "blow life back into the old relationships in the Commonwealth and fan the fires of progress and prosperity in Nigeria and across Africa".
Writing in the UK's Daily Express, he said: "My sincere belief is that Brexit can be a great force for good. It could blow down barriers which have prevented Nigeria and other countries from grasping their potential."
– Kenya
The last call of Mrs May's trip is Kenya.
One of the country's largest papers, the Daily Nation, tells its readers her visit "could not come at a more difficult time" for the Prime Minister – referring to divisions in the Tory Party over Brexit.
"Mrs May needs all the good news she can get," an article says.
It adds of the visit: "Unofficially of course, it is another attempt to reassure the British public that the UK is capable of "going it alone" after Brexit and forging new trade deals with Commonwealth partners and other major economic powers like China and the US."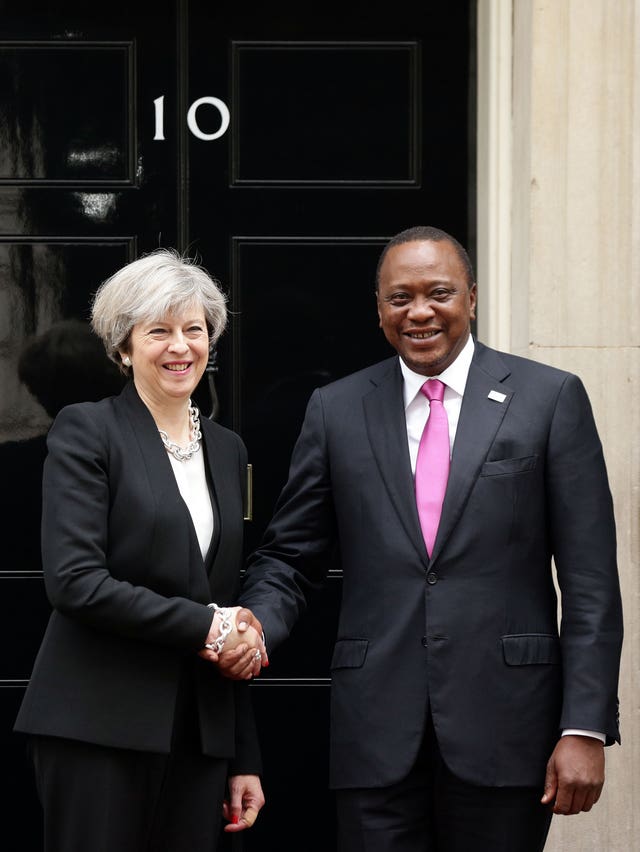 The leader, who has been visiting Donald Trump in the US, is aiming to introduce universal healthcare and affordable housing, improve food security and increase manufacturing.
"The president and his delegation are keen to tap from foreign investment," the paper says.
It adds: "It is expected Nairobi will be pushing for the establishment of a British visa processing centre in the country."