Endurance swimmer Lewis Pugh has told of his relief at completing a "once-in-a-lifetime swim" along the English Channel in his bid to highlight the "crisis" of ocean pollution.
The swimmer, from Plymouth, was greeted at Dover's Shakespeare Beach by Environment Secretary Michael Gove, his wife and campaigners after dozens of local swimmers accompanied him along the final stretch.
He told the Press Association: "It's been very, very long, we've been going for 49 days and I'm exhausted, physically exhausted, mentally exhausted, so delighted to be here."
The 48-year-old is estimated to have made 500,000 to 750,000 strokes along the journey.
Mr Pugh, UN patron of the oceans, set off from Land's End in Cornwall wearing Speedo swimming trunks, a cap and goggles on July 12.
He covered 10km to 20km (six to 12 miles) per day in the challenge overseen by the Channel Swimming Association.
His endurance pushed him to carry on the taxing challenge, despite being told he had tendonitis and advised to rest by his physiotherapist just 10 days before the end.
Mr Pugh said: "The injury took place off the Isle of Wight so for the last three weeks I've been trying to battle it, now I'm going to take a nice long rest and let it recover."
He said he is looking forward to "a really good sleep" after only getting three to four hours each day of the "unrelenting" challenge, which at one point he feared he would not complete.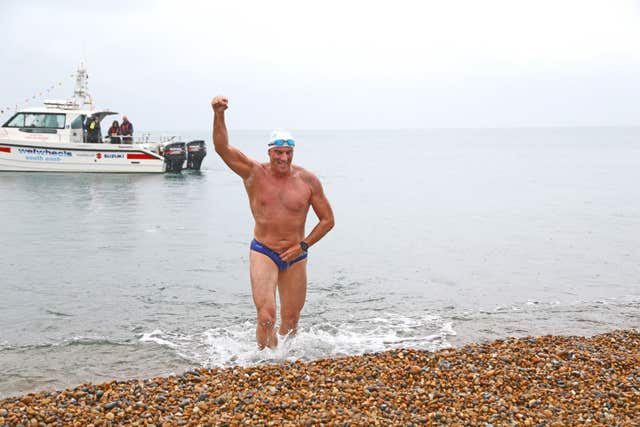 "I was worried at one stage (thinking), 'My gosh, am I going to fail?'" he said.
"The idea of swimming 550 kilometres was very, very daunting. It's more than double that I've ever swum in my whole life.
"So there were concerns before I started about whether I would even finish this.
"I'm 48 years old, I'm certainly in the autumn of my swimming career, today we've tried to make it a very, very long autumn."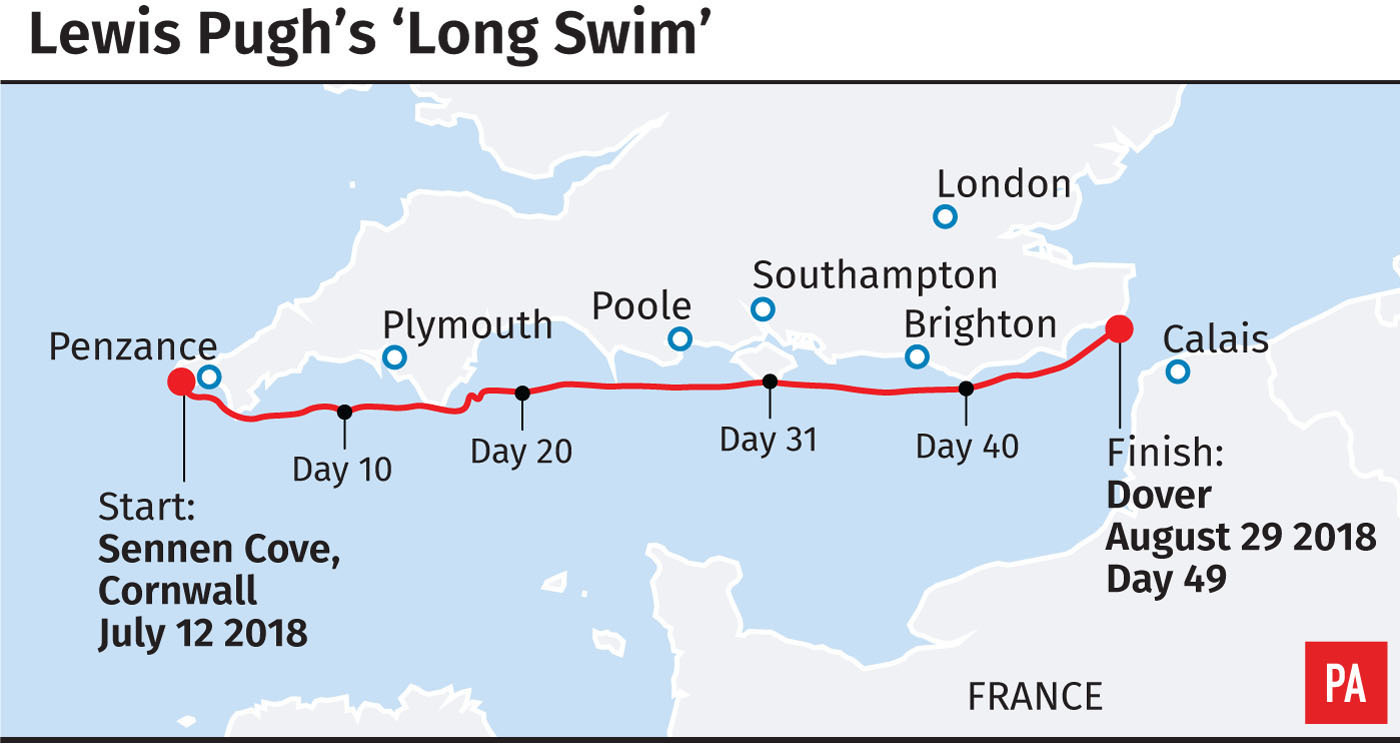 The passionate campaigner repeated his warning that just seven square kilometres (2.7 square miles) out of 750,000 square kilometres of coastal waters are fully protected.
"This is a crisis – be under no illusion that the combination of climate change, over-fishing and pollution altogether now are devastating the oceans," he said.
"This is a message I conveyed to Secretary of State Michael Gove, that we need to take really urgent action.
"We had some constructive and very frank discussions on the yacht, about the health of our oceans and what the UK Government, I feel, needs to be doing to help solve this crisis."
Mr Pugh has been swimming the world's waters for three decades and witnessed first-hand the threat that plastic pollution and climate change pose to the oceans.
He now plans to continue similar swims around the world.
Mr Pugh said: "This was a once-in-a-lifetime swim for me, but there are plans now for other swims in other countries.
"It's not just the UK that's protecting so little of its coastline, there are other nations in similar situations."