An unmarried mother has won a Supreme Court battle to access widowed parent's allowance for her bereaved children.
Siobhan McLaughlin, 46, was refused the benefit after her partner John Adams died from cancer in January 2014 because the couple, who had four children and were together for 23 years, were not married or in a civil partnership.
She initially won a case after claiming unlawful discrimination based on her marital status, but that ruling was later overturned by the Court of Appeal.
But, by a majority of four justices to one, the Supreme Court ruled on Thursday that the current law on the allowance is "incompatible" with Human Rights legislation.
Giving the lead judgment, the court's President Lady Hale said: "The allowance exists because of the responsibilities of the deceased and the survivor towards their children.
"Those responsibilities are the same whether or not they are married to or in a civil partnership with one another.
"The purpose of the allowance is to diminish the financial loss caused to families with children by the death of a parent.
"That loss is the same whether or not the parents are married or in a civil partnership with one another."
However, Lady Hale said not every case where an unmarried parent is denied the allowance after the death of their partner will be unlawful.
The court also said it is up to the Government to decide whether or how to change the law.
Ms McLaughlin, a special needs classroom assistant from Armoy, Co Antrim, was with her partner John Adams, a groundsman, for 23 years and they had four children – Rebecca, 15, Billy, 16, Lisa, 21, and Stuart, 23.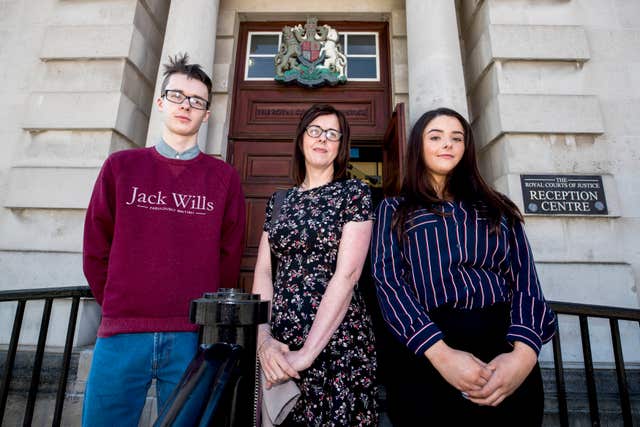 Speaking outside court after the April hearing in the Supreme Court, which sat in Northern Ireland for the first time, Ms McLaughlin thanked supporters.
Attending with two of her children, she said: "This case was never about me. I would love to be recognised as a widow but I accept in the eyes of the law and the Government that I am not.
"What I wasn't prepared to accept was how the Government viewed my children – how they could treat my grieving, bereaved children as insignificant.
"I am such a private person but to sit and accept that this is how it is made me say, 'No, this is wrong'.
"I want to look my children in the eye and say it is the Government at fault here, not you, and because of this I have tried to rectify this for you."