US President Donald Trump will be heading to Ireland in November, the White House has announced.
Mr Trump plans to make a "brief" visit to the country as part of a wider trip to Europe to commemorate 100 years since the end of the First World War.
A statement from the White House press secretary said he hoped to "renew the deep and historic ties" between the two countries.
The president is also due to travel to Paris for Armistice Day commemorations on November 11, where he will "highlight the sacrifices that Americans have made, not only during World War I but also in the century since, in the name of liberty".
It is the first time that Mr Trump has visited Ireland since he entered the White House at the start of 2017.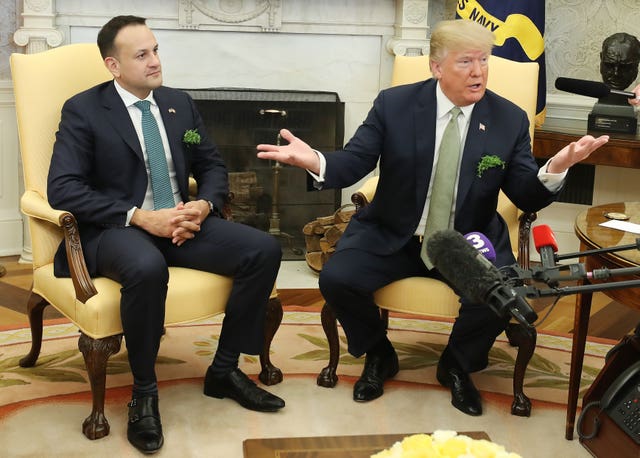 He added: "We understand that President Trump will stop in Ireland for a brief visit on his way to or from the Armistice commemorations in Paris on November 11th."
It follows a meeting between the president and Irish premier Leo Varadkar at the White House in March, when the trip was first floated.
Asked by reporters if he intended to visit, he said: "I will. I love it, I love it.
"I have property there and I might not get to see it again, but I will."
Mr Trump, who owns a golf course at Doonbeg in Co Clare, said at the time that he planned to go to the border as part of the visit.
On the Irish border, Mr Trump said: "That is an interesting border also, we have two interesting borders," an apparent allusion to the US/Mexico border where he wants to build a wall.
Mr Trump's last major trip to Ireland came soon after he bought the golf club.
He had secured the site in the west of Ireland after losing a legal challenge to block an offshore wind farm project within sight of his Scottish golf resort.