A heavily pregnant bride-to-be has told how it felt "surreal" after her partner returned from eight months in the Gulf with the Royal Navy and proposed.
Hazel Staunton was waiting for Joshua Bertman as he arrived at HM Naval Base Clyde in Argyll and Bute at the end of his deployment.
The couple of four years, from outside Doncaster in Yorkshire, are expecting a baby girl in three weeks, who will be named India.
But the able seaman caught his long-term partner off-guard when he was the first person off HMS Bangor and got down on one knee.
"(I decided to propose) about two months in. I wanted to do it, so I thought I'd just do it – it's a good time to do it when in sunny Scotland.
"I'm going to spend a lot of time with the dog, until the baby comes, then I'm going to spend a lot of time with the baby and then fit (Hazel) in when I can."
Ms Staunton jokingly added: "And go to Nando's."
The 21-year-old mother-to-be also said: "I just couldn't believe it, I was just so happy – it didn't feel real."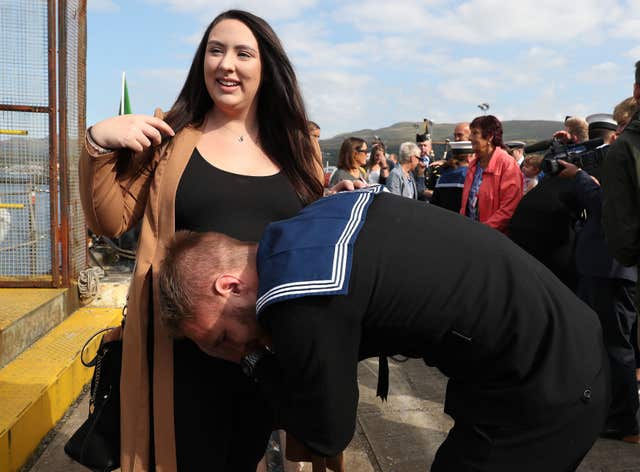 MCM1 Crew 2 took over the vessel in January.
Their deployment has seen them take part in an exercise testing the ability of the Omani Navy to work with other naval forces in the region.
It was among three British ships which also joined American and French forces in the Gulf of Oman for training exercises.
Able seaman Robyn Lockwood was greeted by her one-year-old niece Florence Slade when she landed on home soil.
It was the 19-year-old from Southampton's second deployment.
She said: "It's been quite a long time away, I have to say, but worth it.
"It's great, everyone on board is really great. You have your downtime when you just want to come home, but you don't really have a choice.
"I'm going to fly home, I'm going to have a Chinese and I'm just going to go to bed."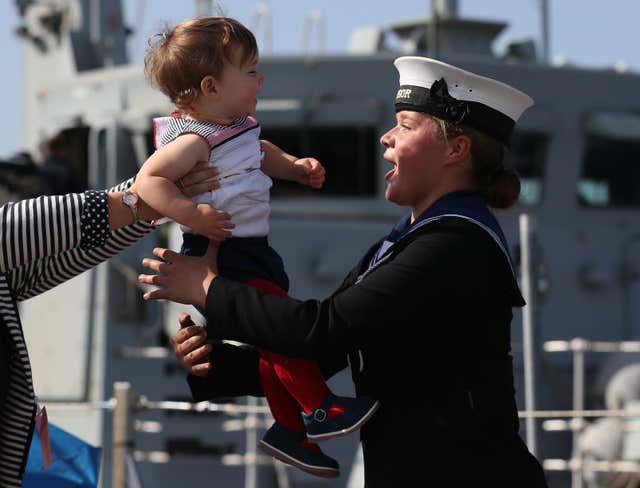 It means those on board since January have had a longer-than-usual trip.
Lieutenant Commander Ben Evans said: "They've found it hard at times, it's fair to say.
"The weather has been kind to us while we've been in the Gulf.
"Quite challenging on the way home with the southwest Monsoon.
"But we've had some great stops on the way (such as the) Mediterranean in the summer – can't complain, really.
"Everything I asked them to do, they did. I'm very proud of them."