Residents trapped on the higher floors of Grenfell Tower "desperately needed" crews with extended air supplies if they had a chance of being rescued, a retired firefighter said.
Retired firefighter Gary Moore said it "quite quickly" became clear that standard breathing apparatus (BA) was not providing enough air for firefighters to reach certain floors.
At about 2.30am to 2.45am he said he stopped using the apparatus as their oxygen was running out too early, saying they "desperately needed" more crews with EDBA sets, which have extended air.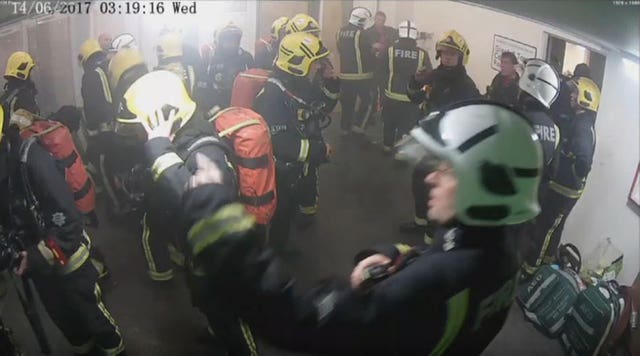 In a written statement to the public inquiry into the blaze, Mr Moore said: "The sets were running out too early. As soon as the FF (firefighters) were getting up the floors they were having to come straight back down unable to carry out any rescues or firefighting.
"We desperately needed EDBAs and were waiting for qualified area units and kit to arrive."
Mr Moore's role was to gather and deploy BAs.
The firefighter, with 30 years' experience at the London Fire Brigade, recalled seeing "waves and waves" of firefighters "eager to do everything they possibly could".
At around 3.30am to 4am, a decision was made that anyone above the 11th floor was "out of reach" due to the ferocity of the fire, he said.
Reflecting on the challenges of night, he said: "In terms of 'what should have been in place', I can only say that we should have had more EDBA units.
"We had a vast amount of standard BA units, however, we stopped using them after about an hour of me being there as they didn't provide an adequate amount of breathing time.
"The firefighters wouldn't have sufficient time to make entry, progress beyond the 10th floor and get out safely."
He went on: "The capacity of the BA units says 31 minutes, but realistically, it is more like 10 minutes.
"Your heart rate, how fast you are moving, how much energy you are using effect the timings.
"This is known to firefighters from training and will give them all an idea of how long personally they tend to get under air.
"It wasn't a shock that they lasted such a short amount of time that night. EDBA systems give extended breathing time and would have made a difference."