Women and babies are being put at risk due to IVF rationing policies, fertility experts have warned.
Denying couples multiple chances at conceiving a baby through in-vitro fertilisation could lead to them "taking a risk" and asking for more than one embryo to be transferred during treatment, they suggested.
Twin, triplet or higher multiple pregnancies can lead to severe adverse consequences for both mothers and babies.
Risks to the babies include higher chances of being born prematurely, disability and death.
Increased threats to the mother include miscarriage, pregnancy-induced hypertension, pre-eclampsia, gestational diabetes, and higher rates of caesarean section and maternal mortality compared with single pregnancies.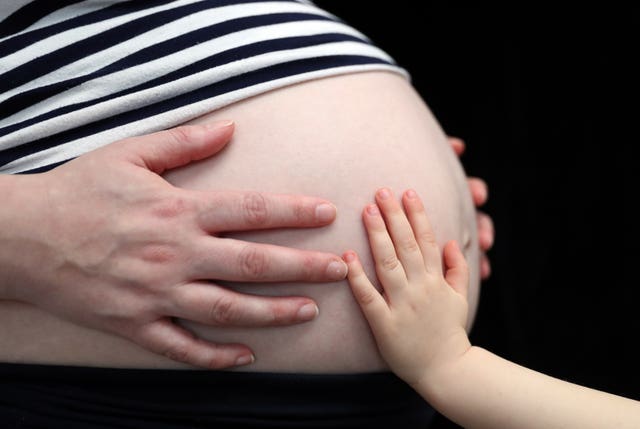 A new report, by the Multiple Births Foundation, British Fertility Society, Human Fertilisation and Embryology Authority, Fertility Network UK and the Royal College of Obstetricians and Gynaecologists, has analysed the cost of multiple pregnancies to the NHS.
Multiple pregnancies are, on average, almost three times as expensive as single pregnancies, the report found.
The authors conclude that for every 10% reduction in the current rate of multiple births, £15 million could be saved by the NHS.
The report also highlights the emotional and psychological cost to families affected by adverse events.
Alongside the report, the organisations have issued a joint statement which advises that local health bodies should "ensure that the practice of elective single embryo transfer is a key factor in the commissioning of all NHS funded IVF cycles".
It adds: "The time has come for CCGs (clinical commissioning groups) to take seriously the issue of incentivising single embryo transfer in IVF, and use public funding for IVF in line with the Nice guideline."
The statement says that not only would reducing multiple births cut the cost to the NHS, it would also reduce the risks to mothers and their babies.
At present, multiple births occur in 1%-2% of natural pregnancies and 11% of assisted conceptions.
Professor Lesley Regan, president of the Royal College of Obstetricians and Gynaecologists, said: "Transfer of multiple embryos is often performed during IVF due to a perception that this will increase the chances of success.
"However, developments in IVF technology and practice have improved the live birth rate for single embryo transfer, allowing success rates to increase while lowering the multiple birth rate and associated complications.
"The RCOG has been calling for government funding of three full IVF cycles – as recommended by national guidelines – since it is regarded to be the most important factor in maintaining low rates of multiple pregnancies following treatment and reduce associated complications for mothers and their babies.
"This would provide a greater incentive for IVF centres and their patients to adopt single embryo transfer more regularly.
"Reducing multiple pregnancies would significantly improve the health of mothers, their babies and families, take pressure off NHS services and contribute to national financial savings."
Aileen Feeney, chief executive of Fertility Network UK, said: "We are concerned that further progress will be limited if the lack of access to NHS fertility services in England continues to drive patients overseas for fertility treatment – where different regulations around the number of embryos that can be transferred means the risk of multiple pregnancies is much higher.
"We urge the Government to commit to funding the recommended treatment of three full IVF cycles for clinically eligible women under 40."
The organisation said that in England 88.5% of local health bodies do not provide the recommended three full cycles of IVF.
Dr Jane Stewart, chairwoman of the British Fertility Society, said: "There remains a drive for patients to consider 'taking a risk' when they are self-funding complex treatment to complete their much-wanted family."
Sally Cheshire, chairwoman of the Human Fertilisation and Embryology Authority, said: "This report is intended to inform commissioning decisions and reinforce the progress already made, so that the risks to patients and costs to the NHS, and society as a whole, are minimised. For all these reasons the aim of IVF treatment should be the birth of a single healthy child."
Jane Denton, director of the Multiple Births Foundation, said: "Our main priority is to reduce the risk for mothers and babies while providing the best possible chance for all those needing fertility treatment of having a longed-for healthy baby.
"While this report focuses on the financial cost of multiple births, it is the cost to the health mothers and babies which is paramount."