Nicola Sturgeon has put improvements to mental health care in Scotland at the heart of her plans for the coming year.
As she unveiled her programme for government at the Scottish Parliament, she said measures in it proved that "health services value and support mental wellbeing just as much as physical wellbeing".
Commitments in this area include £60 million of funding for school nurses and counselling services to fund 350 counsellors and 250 further school nurses.
As a result every secondary school in Scotland will be able to provide counselling for students, the Scottish First Minister said.
She announced the new package of mental health support just hours after Scotland recorded its worst ever performance on child and adolescent mental health waiting times.
The reforms to mental health services were part of the Scottish Governments wider programme of work "to tackle the major social and economic challenges of the day".
The First Minister promised ambitious plans to increase spending on infrastructure in Scotland, with a promise to to invest an additional £7 billion on schools, hospitals, transport, digital connectivity and clean energy by 2026.
With Brexit looming, she also announced £20 million will be invested to support businesses looking to sell their products outside of the UK.
But she stressed while her plans for the coming year were being put forward in "the shadow of Brexit", her programme for govenrment would not be defined by this.
Instead she said she wanted to set out how ministers at Holyrood would "deliver on our vision of a healthier, wealthier and fairer Scotland".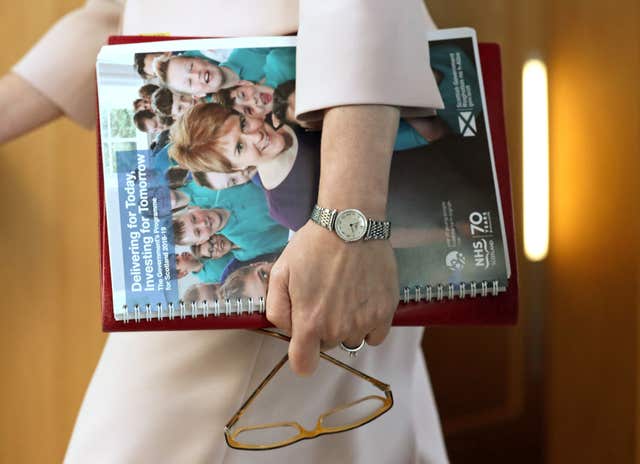 "This Programme for Government flows from that vision and builds on the progress of the last year and indeed the last decade.
"And it ensures that we remain focused on delivering for today and investing for tomorrow.
"It continues and accelerates the major reforms underway in our health, education and justice systems – underpinned by our new progressive system of income tax.
"It seeks to make further progress on tackling inequality and reducing poverty."
With new powers over welfare being deolved to Holyrood, she said the government was setting out "the next steps in the operation of our new social security system".
The Scottish Government will bring forward 12 new Bills in the coming year, including legislation ensuring EU citizens living and working in Scotland can continue to vote in Scottish election.
There will also be legsialtion towards the establishment of a Scottish National Investment Bank, a bill to create a South of Scotland enterprise agency  and a bill to curb Female Genital Mutilation.