A local government watchdog hearing has risen to consider whether Belfast councillor Jolene Bunting should be suspended.
The Local Government Commissioner for Standards in Northern Ireland is investigating 14 complaints about Ms Bunting's behaviour.
Acting Commissioner Ian Gordon chaired an interim hearing on Tuesday.
It follows an interim report by deputy commissioner Paul McFadden, which recommends that it is in the public interest for Ms Bunting to be suspended for six months.
Counsel for Ms Bunting argued against that, pointing out that none of the complainants were among Ms Bunting's constituents, and that it was in the public interest to allow her voters to continue to be represented.
Mr Gordon told the hearing on Tuesday that an outcome would be delivered at a later date as he wished to consider what he had heard.
Earlier, counsel for the deputy commissioner outlined areas of the councillors' code of conduct to which the complaints against Ms Bunting relate.
These include an onus to represent the whole community, to promote good relations and act as a positive example.
The complaints included one against Ms Bunting's apparent endorsement of comments made by Britain First frontwoman Jayda Fransen about the Muslim faith during the Northern Ireland Against Terrorism rally at Belfast City Hall on August 6 2017.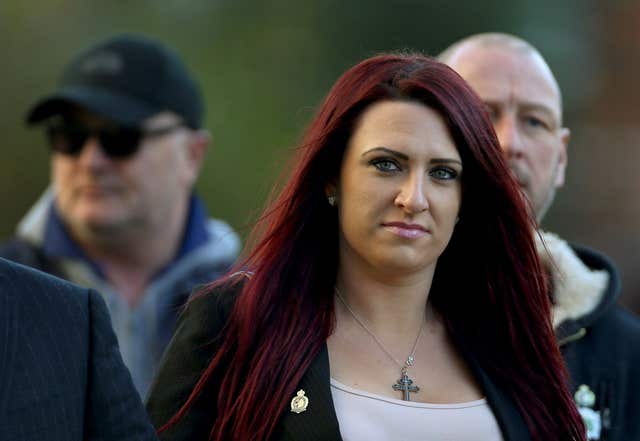 Suzanne Wylie, chief executive of Belfast City Council, submitted a statement to the commissioner, which claimed Ms Bunting's conduct has "caused a level of reputational damage to Belfast City Council".
This was over an incident where Ms Bunting had shown Ms Fransen around City Hall, during which visit Ms Fransen had filmed a video for her supporters while sitting in the Lord Mayor's chair in Belfast City Hall dressed in councillors' robes.
Responding for her client, counsel for Ms Bunting said her client accepts in hindsight she "probably should have run it by someone in the council".
Ms Bunting's counsel also defended her client, saying she had been "pigeon-holed in with more extreme views expressed by others".
"She is not a member of Britain First and never has been," she said.
"She wanted to encourage the more moderate elements within the organisation and wanted to assist them in their structure to become a more credible organisation."
However, Ms Bunting's counsel added, she distanced herself from the group when she became aware that the more "extreme elements" of the group were becoming more influential.
The barrister also defended comments which Ms Bunting has made about Islam, saying she stated genuinely considered views, and had not stepped outside what was appropriate under Article 10 of the Human Rights Act, which relates to freedom of speech.
Summing up, counsel for Ms Bunting compared her client's case with that of former Newry, Mourne and Down councillor Patrick Clarke, who was banned a year after he was criminally convicted of fraud and sexual assault.
"It would simply be outrageous if she was suspended when there are comparable cases which I would argue were much worse where there was no interim suspension," she concluded.
A number of letters of support for Ms Bunting were submitted.
A number of members of Britain First, including leader Paul Golding, watched the morning session from the public gallery.
Ms Bunting had previously been associated with the far-right group, but earlier this year there was a falling-out.
The investigation into the complaints is continuing, with the full hearing set to take place at a later date.