A bicycle hire firm has pulled out of Manchester due to a spate of thefts and vandalism.
Mobike announced it has ended its service in the city after suffering an increase in bicycle losses during the summer.
The Chinese company warned last month it would have to take such a decision unless the situation improved.
It insisted it "can't keep putting bikes in which disappear" as it revealed 10% of its Manchester fleet was taken out of use in July alone.
The firm expects to have removed all of its remaining bicycles from the city by the end of this week.
Refunds are being processed to users, who are advised to check their bank statements.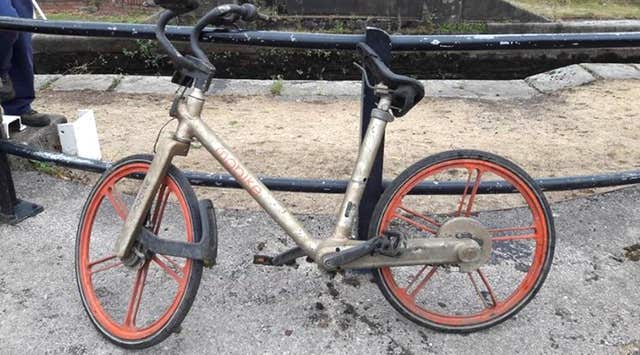 Mobike also operates in London, Newcastle, Oxford and Cambridge – as well as across Europe in cities including Paris, Berlin, Madrid and Milan.
Bicycles are picked up and left without the use of docking stations such as those used by Transport for London's so-called Boris Bike scheme.
Users download an app which employs GPS technology to show them where the nearest available bicycle can be found. They then scan a QR code to release a lock.
Mobike's UK general manager, Jan Van der Ven, said: "We are very grateful to the City of Manchester to have been the first city in Europe to welcome Mobike.
"However, after careful evaluation, we have decided to remove our bikes and refund our users.
"Unfortunately the circumstances in Manchester have not made this possible."
Fifty bikes were damaged and abandoned in the first few weeks after the scheme opened in Manchester in June year, but the problem has grown in recent months.
Bicycles have been thrown in waterways, set on fire or left hanging from railings, while others had locks smashed to enable people to keep them.
Another bicycle hire firm, ofo, is experiencing similar problems in cities such as Sheffield and Cambridge.
Chris Boardman, Greater Manchester's cycling and walking commissioner, said the suspension of the Mobike service was "disappointing news".
He went on: "This was always a trial and despite the negative outcome we've learnt a huge amount from both using and observing the scheme in action.
"A successful bike share scheme requires close community and partner engagement from the outset, the option for docking stations and enough people on the ground to ensure it is reliable and serving its purpose.
"I want to assure Greater Manchester residents that the learning is already being put to good use and that they can expect some very positive news in the not too distant future."