Brexit Secretary Dominic Raab will be grilled by MPs over progress in exit talks later as the Government's plans face mounting criticism.
The minister will appear before the European Scrutiny committee after Brexit preparations were branded "incompetent" by former Bank of England governor Mervyn King, who warned the Government had been left without a credible bargaining position.
In a damning assessment, Lord King said it "beggars belief" that Britain, one of the world's leading economies, had found itself in a situation where the country was being told to take a course of action or face catastrophe.
However he suggested blame should be shared by the Government, Parliament as whole and those on Whitehall who were tasked with making key decisions.
His comments were broadcast by the BBC as new research suggested fewer than one in five voters now expect Britain to get a good deal out of the Brexit talks.
The proportion expecting a good deal has fallen from 33% in February 2017 to just 17% in June 2018, while those predicting a bad deal have increased from 37% to 57% over the same period, according to a survey for NatCen Social Research.
The slump in confidence emerged as Greater Manchester mayor Andy Burnham prepared to use a major speech in Westminster to call for Brexit to be postponed in order to avoid crashing out of the EU without a deal.
The Labour former Cabinet minister will insist "this isn't about frustrating Brexit" but instead about "getting Brexit right".
Mr Raab told MPs on Tuesday that leaving the EU without a withdrawal agreement would offer "opportunities" to the UK, but he insisted an agreement with Brussels was "within our grasp".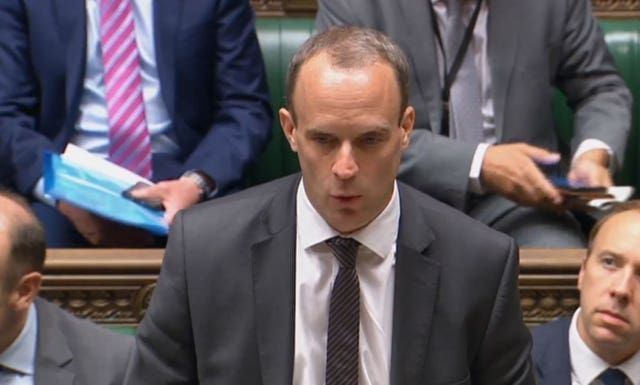 On Tuesday, German chancellor Angela Merkel told business leaders in the country that she could not fully rule out no deal "because we still have no result" from the talks.
Meanwhile Conservative divisions have deepened over the direction Brexit is taking, with former foreign secretary Boris Johnson describing Theresa May's strategy a "fix" that can only lead to victory for the EU.
Lord King, who has spoken favourably of Brexit in the past, tore into the last-minute preparations for a no-deal Brexit, warning they had left Britain without a credible bargaining position.
He made the comments after ministers confirmed efforts were under way to stockpile medicines and ensure an "adequate" food supply if talks fail.
"Frankly, if a government cannot take action to prevent some of these catastrophic outcomes, whatever position you take on the EU, it illustrates a whole lack of preparation," Lord King said.
"It doesn't tell us anything about whether the policy of staying in the EU is good or bad, it tells us everything about the incompetence of the preparation for it."
"Now, it beggars belief that the sixth biggest economy in the world should get itself into that position."
Lord King, who was in charge of the UK's central bank from 2003 until 2013, said that credible plans should have been put in place to leave without a deal because Britain cannot impose a deal on the EU.
However he warned that such plans can not be drawn up in six months and would take several years.
Lord King said he feared biggest risk to the UK was that the referendum had failed to resolve the issue of Brexit and it "isn't going to go away".
Mr Raab will appear before the European Scrutiny committee alongside the PM's Europe adviser, Olly Robbins, on Wednesday afternoon.
The Government undertook a ministerial charm offensive over the summer to persuade the remaining 27 EU member states of the merits of Theresa May's Chequers plan for future relations.
Against growing concerns that a deal will now not be reached, Mr Burnham will call for a second referendum, or "people's vote", on whether to exit the EU without a deal.
He will say that the Article 50 negotiation period should be extended beyond March 2019 as a contingency measure if the only alternative was a no-deal Brexit.
"This isn't about frustrating Brexit. It is about getting Brexit right," he will say.
"A price would undoubtedly be paid in terms of social cohesion but it would be a necessary one to protect the damage to people's jobs, families and lives."