British and French fisherman have celebrated progress made in negotiations to end the scallop wars in the English Channel.
After lengthy discussions on Wednesday, during which the French were said to have expressed "regret" for recent skirmishes, both sides reached an agreement on the principles of a deal.
No UK vessels will fish for scallops during the window in conflict, during which the French are not allowed to harvest the molluscs.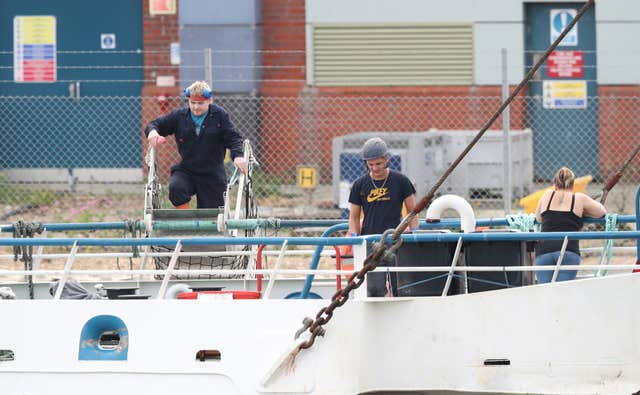 A joint statement from the UK and French governments said the talks in London had been "constructive" and a finalised deal hinges on a "reasonable compensation package".
National regulations allow British ships to fish legally in the area all year round, but French fishermen are banned from taking scallops in the Baie de Seine between May 15 and October 1 to conserve stocks.
A previous industry accord prevented UK vessels larger than 15 metres doing so too, but smaller ones could help themselves.
The agreement-in-process will prevent the smaller British ships taking advantage of that window, but a UK industry representative involved in the talks said they will only be finalised if British fisherman do not lose a penny.
Jim Portus, the chief executive of the South Western Fish Producers Organisation, said: "I'm very pleased that we've negotiated a deal which satisfies the honour of fishermen on both sides.
"The French are in a hurry to make sure that it happens because what they don't want either is for there to be another conflict.
"Quite frankly if it's not good enough on Friday, it will be rejected."
Asked if the French apologised, Mr Portus was tight-lipped. Instead he said: "I'm pleased to say regret was voiced before we started our negotiations."
All British boats have been asked to voluntarily stop taking scallops from the conflict zone until the deal is finalised.
French industry representative Pascal Coquet told reporters outside the Department of Food, Environment and Rural Affairs (Defra), where negotiations were held, that it was a "good deal".
The talks were held after some 35 French boats confronted five British craft off the coast of northern France last week, with UK crews reporting that rocks, smoke bombs and other projectiles were hurled at them during the confrontation.