Former DUP minister Jonathan Bell says an alleged incident where he reportedly "swung a punch" at his special adviser "never happened".
It emerged earlier this week that Mr Bell's special adviser, Timothy Cairns, raised allegations of bullying against him, including a claim that he had tried to break his finger and had swung a punch at him.
According to inquiry documents, the allegation came in a text message between Mr Cairns and another special adviser, Richard Bullick, on December 15, 2016.
Mr Bell has refuted this.
He is set to appear at the Renewable Heating Incentive (RHI) scheme inquiry on Thursday.
Mr Bell had been minister at the former Enterprise, Trade and Investment department (DETI) in 2015-16 during the RHI crisis.
The independent inquiry was set up to examine why costs for the scheme spiralled.
In his witness statement, which was published on the inquiry's website on Wednesday afternoon, Mr Bell rejects the text message allegation.
In his statement to the inquiry, Mr Bell said: "No such incident took place."
He added that he first became aware of the allegations through material disclosed to him by the inquiry.
Mr Bell said his working relationship with Mr Cairns had been "generally good".
However, he added that he felt Mr Cairns was "intimidated" by other DUP special advisers.
Mr Bell also makes claims that Mr Cairns had sought to "indirectly control" him.
Mr Bell claimed that on a date in June/July 2015, shortly after he became minister, DETI's permanent secretary had tried to raise the issue of the RHI, but that Mr Cairns "stated he did not wish the RHI scheme to be on the agenda".
Mr Bell also gave an example in his statement to the inquiry of an invitation that he claims was with held from him.
He has submitted that the invitation was from then secretary of state Theresa May to a Wrightbus reception in Ballymena that Boris Johnston was due to attend.
The former DUP minster said he raised not receiving the invitation with Malcom McKibbin, head of the NI Civil Service, who in turn said he would investigate why Mr Bell had not received the invitation.
But, Mr Bell said, then first minister Arlene Foster "suspended the investigation".
Mr Bell was suspended from the DUP in December 2016 after giving a televised interview with BBC journalist Stephen Nolan, during which he made a number of claims concerning the RHI scandal.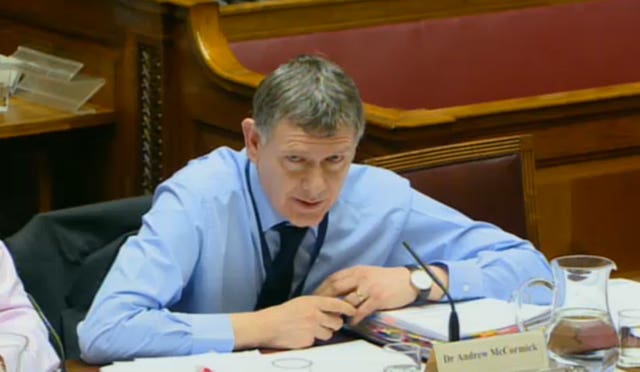 Among his evidence, he told the public inquiry important information was not shared between civil servants working on the scheme.
He said: "The baton was dropped and that's a matter of great regret from a civil service point of view."
The RHI was established to encourage businesses to switch from burning fossil fuels to greener alternatives like biomass.
Its subsidies proved over-generous and the bill for taxpayers spiralled.
The DUP's alleged role while the scheme was being conceived led to the withdrawal of Sinn Fein from Stormont powersharing and the collapse of devolved government.
The independent inquiry into the RHI scandal was established in January 2017.